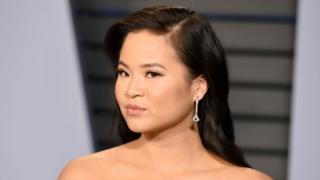 Star Wars actress Kelly Marie Tran, who has suffered months of racist and sexist abuse on social media, has deleted all her posts on Instagram.
Tran starred as mechanic turned Resistance fighter Rose Tico in the latest Star Wars film, The Last Jedi.
As a Vietnamese-American, she was the first woman of colour to play a lead role in the iconic series.
But she experienced a fierce backlash from some fans, who took aim at her ethnicity and appearance.
Some have fiercely criticised her Star Wars character, but directed their hate at Tran personally instead.
Online abuse
In The Last Jedi, Rose joins the Resistance movement after the First Order – a military dictatorship – destroys her home.
She later sets out to work together with Finn, one of the film's male protagonists, to take on the First Order.
In her one of her now deleted Instagram posts, she had spoken about her excitement at joining the franchise.
"I know how lucky I am to be a part of something that people love, to be able to act and tell stories at all," she said.
But shortly after the movie hit theatres in December 2017, Tran began receiving abusive comments from Star Wars fans.
Rose Tico's character page on Wookieepedia, an online Star Wars encyclopaedia, was changed so that she was renamed "Ching Chong Wing Tong" – a slur used to mock the East Asian accent.
American internet personality Paul Ramsay also tweeted a photo of Tran making fun of her appearance and it wasn't long before others on Twitter joined in.
Social media users began calling out her ethnicity and taking aim at her appearance – with numerous comments that were critical of her weight.
There has been no confirmation from Tran as to why she vanished on Instagram, but her supporters are blaming cyber bullying and have been defending her online.
"Just reading some of the comments, it's no wonder she made the decision to [delete her posts]. It's sad that her life choices are presently being dictated by a horrible bunch of so-called Star Wars Fans," said Sanjiv Indran, the president of the Star Wars Malaysia Fan Club.
"Most of us fans – like the Force itself – are still with her."
Asian Americans on Twitter have also expressed the importance of seeing themselves represented onscreen in a major film franchise.
Tran is not the first Star Wars star to be a victim of cyber-bullying.
Star Wars actress Daisy Ridley also deleted her Instagram account temporarily in 2016, reportedly due to abuse she received online.
"People can be very precious about the Star Wars universe and what they think it owes them, but they need to remember that these are actors who are doing a job," Chris Brennan, director of Star Walking Inc – which calls itself the longest-running Star Wars club in the world – told the BBC.
"Behind all that they are real people with real feelings that deserve respect."