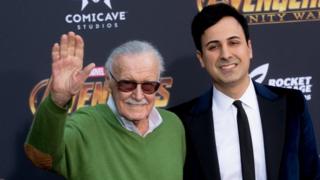 A temporary restraining order has been issued in Los Angeles against the carer of Marvel Comics magnate Stan Lee, following allegations of elder abuse.
Keya Morgan, who has been the 95-year-old's manager for several months, has taken advantage of Mr Lee's vulnerability, his former lawyer Tom Lallas says.
Mr Morgan is yet to comment.
Stan Lee co-created and promoted comics such as Spider-Man and Black Panther through his company Marvel Comics.
Many became household names, leaping from the comic book to the big screen.
New York memorabilia dealer Mr Morgan, 41, "inserted himself into Mr Lee's life" after his British-born wife of 69 years, Joan, died in 2017, Mr Lallas wrote in the petition for the restraining order.
Mr Lallas filed the petition on Mr Lee's behalf. Los Angeles Police are investigating the allegations of elder abuse.
Mr Lallas has alleged in court documents that Mr Morgan controlled access to Mr Lee, including by hiring security guards, and moved him from his family home.
"Mr Morgan is unduly influencing Mr Lee and isolating him," Mr Lallas wrote.
Mr Morgan was arrested on Monday on suspicion of making a false call to the police, reporting that a burglary was taking place at Mr Lee's home.
Police say the call was made as two detectives and a social worker were conducting a welfare check on Mr Lee.
According to a transcript of the 30 May call filed with the restraining order, Mr Morgan said that "three unidentified people have gone inside this house and locked the door and locked his security out and I'm very, very scared that they're harming him".
In a video posted to his Twitter account this week, Mr Lee said that Mr Morgan, who was released on bail, was his "only partner and business manager."
Whether Mr Lee is granted a permanent restraining order against Mr Morgan will be decided in a court hearing scheduled for 6 July.
In May, Mr Lee announced his intention to sue an entertainment company he co-founded for $1bn (£742m).
He said Pow! Entertainment had made him sign over his name and image rights when he was in an emotionally and physically fragile state.
However Pow! said Mr Lee had "clearly understood" the terms of the agreement, adding the allegations were "completely without merit".
You may also be interested in: