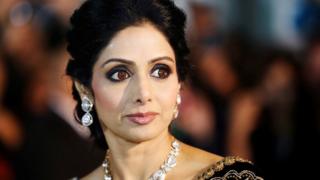 Bollywood actress Sridevi Kapoor, who died in February, has been awarded posthumously India's National Film Award for Best Actress.
Actor and politician Vinod Khanna, who died last year, was also honoured, with India's highest film prize, the Dadasaheb Phalke award.
The families of both famed actors attended the 65th annual ceremony in New Delhi to accept the awards.
Sridevi, as she was known, was 54 when she died of a heart attack in Dubai.
"Sridevi would have been very happy today," her widower Boney Kapoor told Indian media on receiving the accolade. "We miss her, it is a very proud moment at the same time."
He accepted, alongside their daughters, the prize for her last role in revenge thriller Mom.
The Bollywood star, who began acting at four years old, had featured in 300 films, including classics Mr India, Chandni and ChaalBaaz.
Sridevi had already won six awards for her final role, which was as a vigilante seeking revenge for her step-daughter's gang rape.