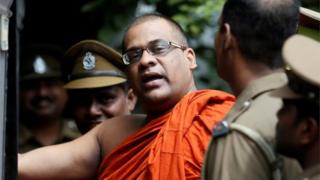 A court in Sri Lanka has sentenced a hardline Buddhist monk to six months in prison for threatening the wife of a missing cartoonist.
Galagoda Aththe Gnanasara Thero was found guilty of criminally intimidating Sanya Eknaligoda at a court in 2016.
Sri Lanka rarely convicts Buddhist monks.
This is the first time Gnanasara has been jailed, although he has previously been accused of hate crimes and anti-Muslim violence.
The monk, who leads the Bodu Bala Sena (BBS) or "Buddhist Power Force", had interrupted a court hearing in which military intelligence officials were accused of abducting Sanya Eknaligoda's husband.
Prageeth Eknaligoda, a critic of the then government, went missing in 2010.
His wife has led a campaign to trace his whereabouts, and accuses the authorities of not doing enough to investigate his disappearance.
In his cartoons, Prageeth Eknaligoda depicted issues of media freedom, political power and social disadvantage. He was well-known for work critical of the administration of then President Mahinda Rajapakse.
Gnanasara was found guilty on two counts and sentenced to two six-month terms, to be served concurrently. He was also ordered to pay 50,000 rupees ($310; £230) in compensation to Sandya Eknaligoda.
Correspondents say the court ruling is significant in the majority Sinhalese country, where it is almost unheard-of for a Buddhist monk to be given a custodial sentence.
Last year the monk was pursued by the police in connection with attacks against Muslims. He later handed himself in and was granted bail.
He has close links with Wirathu, an extremist monk in Myanmar (also called Burma).