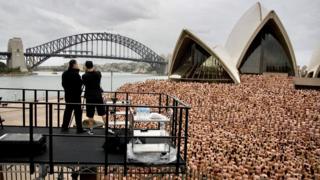 Photographer Spencer Tunick has started a petition against a decision by an Australian supermarket chain to halt plans for his latest mass nudes shoot.
More than 10,000 people had volunteered to pose for the renowned US artist on a rooftop car park in Melbourne.
But supermarket giant Woolworths, which owns the location, said the shoot would inconvenience customers.
A local business group has protested against the decision, describing it as "prudish".
New York-based Mr Tunick is famed for his pictures of naked crowds, sometimes at global landmarks.
A Woolworths spokeswoman said: "The request for the photo was for the weekend, which is the busiest time of the week for shopping in our stores."
But Mr Tunick said that his shoot had been scheduled to take place early in the morning to minimise disruption.
"I really needed this space for this idea. It was going to be a highlight – the most important work I was making on this trip," Mr Tunick told the BBC.
"There's no signage that says it's Woolworths. It's just a place where the good denizens of Melbourne will gather to make a community-oriented artwork that is naked but not a crime."
Despite the number of volunteers, Mr Tunick said about 500 people would feature in the shoot for a local arts festival.
He and local organisers had spent a year scouting sites for the project on Chapel Street in Prahran, a fashionable inner-city precinct.
Local business group Chapel Street Precinct Association said the supermarket's decision was "ludicrous."
"The plan was to showcase our beautiful area to the whole of the world," said spokeswoman Chrissie Maus.
His previous artwork in Melbourne involved more than 4,000 volunteers covering a city river bank.
"Previously, I've only had my locations taken away by conservative governments and presidential palaces," Mr Tunick said.
The photographer said that he hoped a petition would encourage the company to reconsider.
Mr Tunick has produced more than 120 nude group installations in more than 30 countries, including a shoot at the Sydney Opera House in 2010.