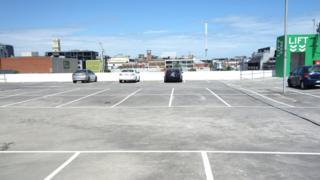 Australian supermarket chain Woolworths says US artist Spencer Tunick can use a car park on top of one of its Melbourne stores for a mass naked photo shoot, reversing an earlier decision.
In April, Woolworths turned down Mr Tunick's request to use the location in Prahran, saying it would be too disruptive on a Saturday.
An online petition was launched.
Now Woolworths says he can use the car park for an hour on a Monday morning. "It's a good outcome," said the store.
The photo shoot is part of the Chapel Street Provocare arts festival in the upmarket district of Victoria's state capital.
"In further discussions with the festival organisers, they indicated a willingness to be flexible with dates and times to ensure the shoot could happen without inconveniencing our customers during busy weekend trading," said a Woolworths' spokesperson quoted by the Melbourne Age.
John Lotton, director of festival, told Reuters news agency: "We're over the moon."
About 11,000 people have so far registered to strip off for the camera on 9 July, more than could fit onto the rooftop car park.
"It is well and truly oversubscribed," said Mr Lotton.
When proposing the event, Mr Tunick said about 500 people would feature in the shoot.
"We will also be asking participants to use public transport to avoid the limited parking that is available in the area being unavailable to those shopping at Woolworths or other local retailers during this time," added Mr Lotton.
New York-based Mr Tunick is famed for his pictures of naked crowds, sometimes at global landmarks.
His previous artwork in Melbourne involved more than 4,000 volunteers covering a city river bank.
Mr Tunick has produced more than 120 nude group installations in more than 30 countries, including a shoot at the Sydney Opera House in 2010.