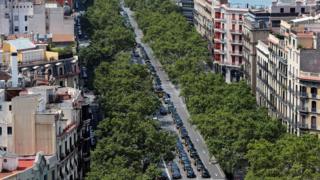 Taxi drivers across Spain have joined a strike against ride-hailing companies like Uber, demanding the government restrict their numbers.
The striking taxi drivers, some of whom have been camping out for days, say the services threaten their livelihood and are putting thousands of jobs at risk.
As a result, they have blocked main roads in the capital, Madrid, and in Barcelona with their parked cars.
The government is due to meet with ride-hailing companies later on Monday.
Taxi unions want it to enforce the law which requires just one ride-hailing licence for every 30 taxi licences.
Union representatives said in a statement that "Uber and Cabify are putting the viability of the taxi sector and 130,000 jobs at risk", adding it "considers this unfair competition intolerable".
The strike began in Barcelona last Wednesday, after the Spanish government appealed against a ruling by the Barcelona authorities that limited the number of licences for taxi services booked by smartphone apps.
Madrid, Valencia, Bilbao and Seville are all following in Barcelona's footsteps and are calling their own stoppages, causing widespread disruption.
The strike is now trending on Twitter, with the hashtag "HuelgaTaxis" generating thousands of tweets, with people sharing pictures of the strikes in their areas:
But while some people were supporters, others were unimpressed by the action, with Sheila H suggesting it was a "perfect advertising campaign".
Others suggested the taxi drivers could simply look at the likes of Uber as "an opportunity" and not a threat.