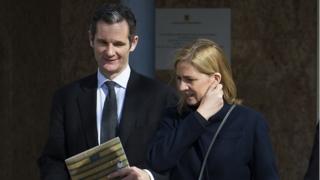 In a corruption case that has shaken Spain's royal family, Iñaki Urdangarin, the husband of Princess Cristina, has been told he has five days to report to a prison to start his sentence.
He will serve five years and 10 months for embezzlement, influence-peddling and tax fraud.
The princess herself was cleared of involvement in last year's trial.
She was the first member of the royal family to go on trial in modern Spanish history.
Urdangarin becomes the first member of a Spanish monarch's family to go to jail.
He has five days to decide where he intends to serve his prison term.
His sentence was reduced on appeal on Tuesday by the Supreme Court from six years and three months and the case was then sent back to the original court in Majorca for a final ruling.
What was his crime?
Urdangarin, 50, was convicted last year of using his not-for-profit Nóos Institute sports foundation on the island of Majorca to siphon off millions of euros for private use.
He ran the foundation as a vehicle to win falsely inflated contracts from regional government bodies for organising sports events, before channelling the money to personal accounts via tax havens.
Nóos received more than €6m (£4.4m; $6.5m) of public money, mostly from the Balearic Islands and Valencia regional governments. Urdangarin will also have to pay more than €1m in fines.
Two other senior figures are also going to jail.
Urdangarin's ex-business partner, Diego Torres, has been told he has five days to report to a prison to serve his term of five years and eight months.
The former head of the Balearic island government, Jaume Matas, who is also a former Spanish environment minister, faces a shorter sentence.
Crisis for royal family
Spanish media noted that Tuesday's jail sentence coincided with Princess Cristina's 53rd birthday.
Urdangarin still has the right to seek a royal pardon, however King Felipe VI has tried to distance himself from the case, which overshadowed the final years of his father Juan Carlos, who abdicated in 2014.
He may also apply to the constitutional court to have his term suspended.
The couple were barred from appearing at official events from 2011 and King Felipe then stripped them of their titles of Duke and Duchess of Palma de Mallorca when he came to power.
They moved to Geneva in 2013 and Urdangarin flew in to Palma airport from Switzerland on Tuesday to hear the verdict.
The princess, who is the king's younger sister, was highly regarded in Spain for her role in fighting child mortality for a charitable foundation. Her husband played for Spain's handball team at the 1996 Olympics.
They married in 1997 and have four children.
While Cristina was absolved of any guilt in the corruption trial, she had been on the board of the Nóos Institute and was given a fine for unwittingly benefiting from illegal gains.