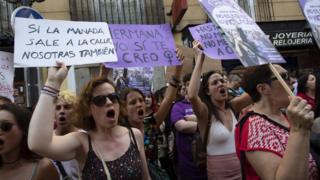 Four men and a boy have been detained by Spanish police over a sexual assault on a girl at a tourist resort on the island of Gran Canaria.
Reports said the group had dubbed themselves "new wolf pack", after a notorious gang attack on a young woman that has shocked Spain.
The five men in that case were cleared of rape but given jail terms for sexual abuse and released on bail last Friday.
Protests took place across Spain in response to the decision to free them.
The latest suspects are being held at a police station in the coastal town of Maspalomas, but police have given few details about the incident in the south of the island on Saturday night.
According to Spanish media, the group had dubbed themselves while in detention as "la nueva manada" (new wolf pack), directly linking their actions to the earlier case that took place at the San Fermín bull-running festival in Pamplona in July 2016.
In the Pamplona attack the gang had discussed their rape plans in a Whatsapp group they had named "la manada".
In common with the five men who attacked an 18-year-old in 2016, the suspects on Gran Canaria were said to have filmed their assault on at least one mobile phone. Investigators were trying to find out if they had drugged the girl in advance.
Renewed outrage in Spain
Women's groups have condemned the latest reports as both a consequence of media coverage of the initial Pamplona attack but also of the way victims are treated by the Spanish judicial system.
Many saw the attack, one day after the Pamplona gang were freed on bail, as a direct result of the five Pamplona attackers being released.
Local officials condemned the "totally intolerable" attack, saying that because of the earlier gang assault in Pamplona it "causes concern, stirs feelings and dangerous awakens social anger".
The court process surrounding the San Fermín rape provoked nationwide anger, during the trial and in the aftermath of verdict.
There was disbelief when evidence about the victim's personal life was allowed, while texted conversations that the group had on Whatsapp were rejected.
Anger at "patriarchal justice" turned into street protests in cities across Spain when the five were cleared of rape in April and given nine-year jail terms for sexual abuse.
There were further demonstrations when the men were freed on bail pending appeal last week.
The government of Socialist Prime Minister Pedro Sánchez said it did not want to interfere in the judicial process, although the equalities minister said the court's decision "aroused social alarm".