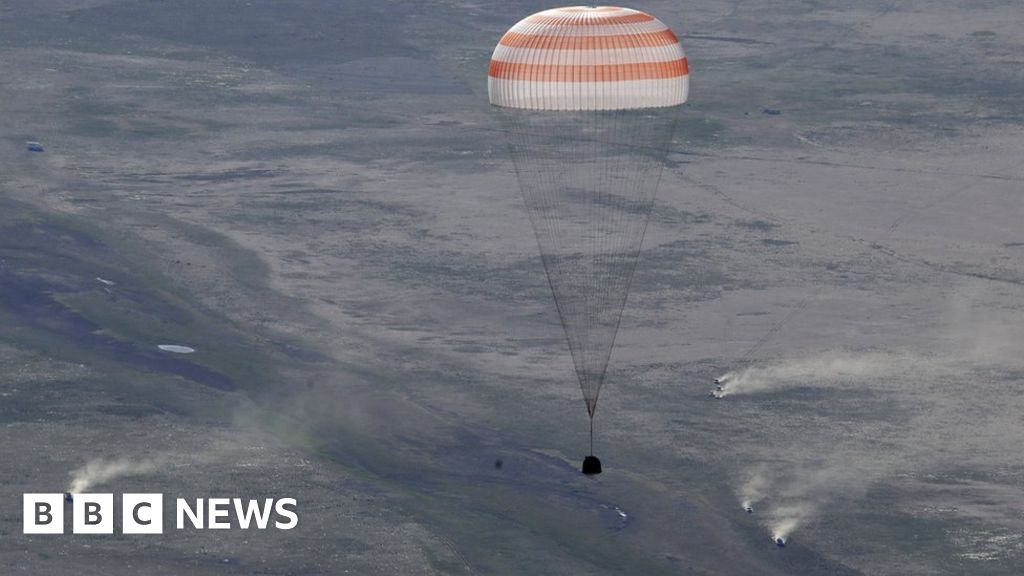 Three crew members from the International Space Station (ISS) have arrived safely back on Earth after a mission of more than five months.
A Soyuz capsule carrying Russian Anton Shkaplerov, American Scott Tingle and Japan's Norishige Kanai floated down under a red-and-white parachute for a landing on the steppes of Kazakhstan.
Footage from the Russian space agency Roscosmos showed recovery helicopters circling as the capsule touched down at 18:39 local time (12:39 GMT) on Sunday, sending up a cloud of dust.
Anton Shkaplerov, who was the first to be lifted and carried from the capsule, told the camera crew: "We are a bit tired but happy with what we have accomplished and happy to be back on Earth. We are glad the weather is sunny."
Scott Tingle was carried out next, smiling and waving to the cameras.
Last to emerge was Norishige Kanai. He has helped to raised awareness of the ISS in Japan by tweeting in the Japanese language during his time in space.
All three were then seated in chairs with blankets over their legs, with the capsule – blackened by its fiery re-entry into the Earth's atmosphere – behind them.
Tingle and Kanai were to travel to the Kazakh city of Karaganda before leaving for Houston, Texas.
Shkaplerov was travelling back to Moscow, reportedly with a football that might be used in the World Cup later this month.
Earlier footage from the ISS showed Shkaplerov and a fellow cosmonaut practising with the ball. News agency Tass reported that it was to be used in the opening game, although this has not been confirmed by international football federation Fifa.
The three men worked on a variety of scientific experiments during their time on the ISS. Tingle also completed a spacewalk to mend the station's robotic arm.