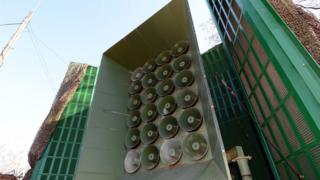 South Korea is to begin taking down loudspeakers along its border with the North, and there are indications the North is doing the same.
The countries have used the speakers for years to blast propaganda across their mutual border.
The dismantling is part of a string of symbolic gestures after the historic Korean summit last week.
On Friday, the North and South agreed to end hostilities and work on denuclearising the peninsula.
North Korean leader Kim Jong-un is expected to meet US President Donald Trump within weeks to discuss the issue.
South Korea's speakers were first set up in the 1960s and since have blasted everything from Korean pop music to news reports across the border.
Seoul, which has never confirmed how many speakers it has and where they are, had turned off the broadcasts before Friday's talks.
On Tuesday, the Yonhap news agency quoted a South Korean military official as saying: "As notified, we will today begin the removal of the loudspeaker broadcast equipment from front-line regions."
A defence ministry spokesperson had described the decision to take them down as a way of building trust between the two countries.
Defence officials later said activity along the border indicated that the North was also dismantling its banks of speakers.
Venue debate
The inter-Korean summit – the first meeting between Korean leaders in more than a decade – saw South Korean President Moon Jae-in sign a joint declaration with Kim Jong-un.
Key outcomes of the Korean summit
A commitment to "a nuclear-free Korean peninsula" and an end to "hostile activities" between the two countries
Changing the demilitarised zone (DMZ) into a "peace zone," including ceasing propaganda broadcasts
An arms reduction in the region pending the easing of military tension
To push for four-way talks involving the US and China aimed at turning the armistice that ended the Korean war into a peace treaty
Organising a reunion of families left divided by the war
Connecting and modernising railways and roads across the border
Further joint participation in sporting events, including this year's Asian Games
Read the Korean declaration in full
Mr Kim's meeting with Mr Trump, expected by June, would be the first ever between two sitting leaders of North Korea and the US.
No date, agenda or location have been set, though Mongolia and Singapore are thought to be frontrunners as hosts.
On Monday, Mr Trump in a tweet suggested the North-South border as a venue.
The Peace House there would be a "Representative, Important and Lasting" venue, he said.
Located on the southern side of the border but in the Demilitarized Zone, it is also where last week's inter-Korean summit took place.