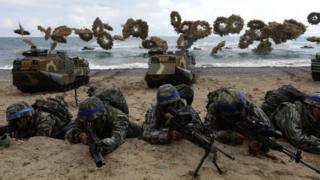 The defence ministers of South Korea and the US have discussed the future of their joint military drills after the US president said they would be ending.
Donald Trump made the surprise announcement following his summit with North Korean leader Kim Jong-un.
The US has insisted its alliance with Seoul – which has always said the drills are essential – is "iron clad".
Separately, South and North Korea have said they will completely restore their military communication lines.
There are about 29,000 US soldiers based in South Korea and each year. The two countries regularly conduct large scale military drills, often called war games.
The next joint drill was scheduled for this autumn.
But following his talks with Kim Jong-un in Singapore, Mr Trump described the drills as "very provocative" – contradicting previous US administrations' insistence that the drills are purely defensive – and said he was ending them.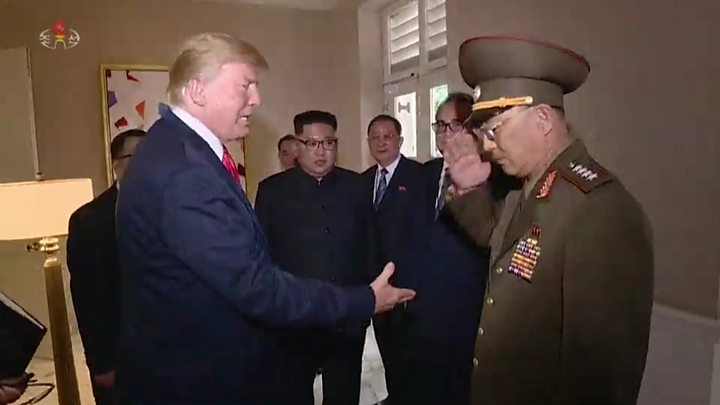 South Korean Defence Minister Song Young-moo on Thursday held talks with his US counterpart James Mattis to discuss the exercises.
The two agreed to "continuously strengthen efforts to provide defence support, based on the solid South Korea-US alliance," the South Korean defence ministry said.
Mr Song said the two allies should be "flexible" about how much military pressure they put on the North, the ministry said, adding that the US and South Korea would hold further discussions soon.
North Korea has long condemned the drills as an unacceptable act of aggression and provocation.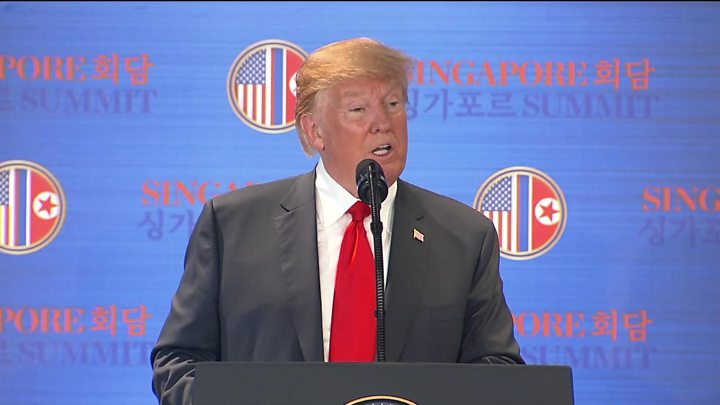 Mr Trump's nominee as next ambassador to South Korea, Harry Harris – previously a supporter of the drills – has said that "major exercises" should be paused to allow time to test Pyongyang's commitment about dialogue.
The decision to end the military exercises has been widely criticised as a major concession to North Korea, while the joint declaration Mr Trump and Mr Kim signed at the end of the Singapore summit has been criticised as lacking in detail.
North Korea agreed to "complete denuclearisation of the Korean peninsula" only in very general terms, without a timeline or a commitment to allow international verification.
North and South continue rapprochement
Seoul and Pyongyang, meanwhile, have continued the new dialogue which followed the inter-Korean summit in April.
That summit – where South Korean President Moon Jae-in met Kim Jong-un at the border – ended in the Panmunjom Declaration, calling for joint efforts to ease military tensions on the peninsula.
On Thursday, at the first high level military talks in more than a decade, the two Koreas agreed to restore their military communication lines, seen as an important confidence-building gesture.
The two sides are also discussing resuming economic co-operation and arranging reunions for families separated by the Korean War.