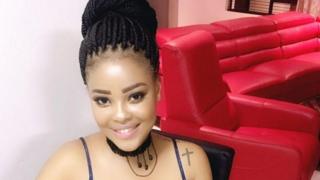 A South African man has been found guilty of killing his 22-year-old ex-girlfriend in a case that shocked the country last year.
The High Court in Johannesburg concluded that Sandile Mantsoe stabbed Karabo Mokoena, and tried to conceal the crime by burning her remains.
Her killing sparked outrage with women using the hashtag #MenAreTrash.
South Africa has one of the world's highest rates of rape and murder of women.
More than 40,000 cases of rape are reported every year, figures which are thought to only represent a fraction of actual attacks.
Presiding judge Peet Johnson labelled Mantsoe an unreliable witness who fabricated evidence and was involved in a web of lies in a bid to sway the murder trial his way.
The 28-year-old denied killing Ms Mokoena but during his bail hearing, he claimed he had disposed of her body after he came home and found that she had committed suicide by stabbing herself.
Her charred remains were found buried in a shallow grave in a deserted field in Johannesburg after her family filed a missing person's report in April last year.
She had been assaulted, doused with acid and then set alight.
Police said the accused had confessed to the murder as part of a ritual which would allow his business to prosper.
The guilty verdict has been welcomed by Ms Mokoena's family.
South Africans are discussing the verdict on social media with the name of the victim and killer the top trends on Twitter.
Mantsoe is due to be sentenced on Thursday.