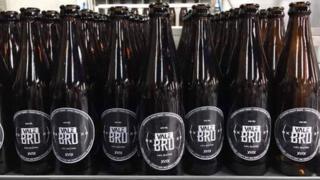 A South African company has apologised for the branding of its new range of craft beers, which sparked an outcry, especially among women.
Vale Bru ran a marketing campaign for the beers with names such as Filthy Brunette' Easy Blonde' Raven Porra and Ripe Redhead.
Easy Blonde came with the tagline: "All your friends have already had her".
After being criticised for being sexist, the company promised to remove the labels and names.
The social media campaign advertised Filthy Brunette as: "When gushing and moist are used to describe something' then you know."
While the Raven Porra was described as, "a porter with the best head in town". According to South Africa's Times Live, Porra is a derogatory term for someone of Portuguese origin.
Thandi Guilherme, author of the platform Craft Geek, wrote on Instagram that Vale Bru "should be absolutely ashamed of yourselves. Crass, sexist, misogynistic branding and labelling".
The Johannesburg-based company issued its first apology, which has since been deleted, on Instagram. It said: "Our attempt at making you' and ourselves' uncomfortable' worked. However' we never meant to belittle or degrade you."
"If those keyboard crusaders want to carry on' feel free," it added.
Ms Guilherme later wrote on her blog: "#Metoo, Rape culture and Trump's 'locker room' misogyny are not funny. These are real problems that society is trying to deal with. Don't go there."
"I understand that sex sells' but these names don't hint at respectful sex," wrote South African blogger Lucy Corne.
"Maybe they should have asked themselves whether these are things that they would appreciate people saying about their little sister."
In a new apology posted on 7 July, Vale Bru said it took "full accountability for our actions and we plan on making things right."
"We were insensitive and wrong, for which we apologise unreservedly," it added.