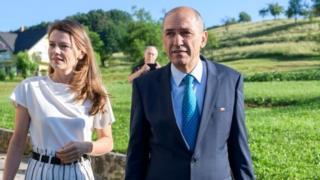 The anti-immigrant SDS is set to be the biggest party following Slovenia's election, an exit poll suggests.
The poll gave SDS almost 25% of the vote, double that of its nearest rival.
However, four left or centre-left parties polled around 10%-12% each, which would make it tough for the SDS to form a coalition.
The poll was called in March after centre-left PM Miro Cerar quit amid strikes, coalition wrangling and a damaging Supreme Court ruling.
Polls closed at 1700 GMT and preliminary official results will come later on Sunday from the State Election Commission.
The SDS (Slovenian Democratic Party) is led by former PM Janez Jansa, who has been a vocal supporter of Hungary's nationalist Prime Minister Viktor Orban.
Mr Jansa admitted after voting: "We will probably have to wait for some time before serious talks on a new government will be possible."
His party opposes quotas for migrants and Mr Jansa says he wants Slovenia to "become a country that will put the wellbeing and security of Slovenians first".
His nearest rival is the centre-left, anti-establishment LMS party of Marjan Sarec, which the exit poll gave 12.6%.
As he voted in the city of Kamnik, he expressed hope he could help form a government.
Some 25 parties were contesting the election with 90 seats in parliament up for grabs and 1.7 million people eligible to vote.
Miro Cerar resigned after a Supreme Court ruling went against his flagship railway investment project.
His additional troubles in the banking system, the health sector and over pensions will become key issues on the next government's agenda.