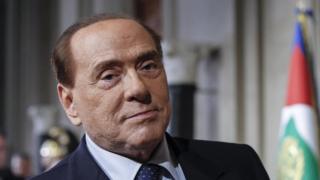 An Italian court has lifted a ban on former Prime Minister Silvio Berlusconi holding public office.
He was barred in 2013 after receiving a four-year sentence for tax fraud, although he never spent time in prison.
The court decision comes just days after the 81-year-old agreed to his right-wing ally, the League party, talking to the anti-establishment Five Star party about forming a government.
If talks fail and a fresh election is called, Mr Berlusconi could now stand.
The court in Milan overturned the ban against the four-time prime minister and billionaire, which was due to remain in effect until 2019.
His lawyers had taken his case to the European Court of Human Rights.
Following his conviction in 2013, Mr Berlusconi's sentence was automatically reduced to 12 months. It was then commuted to community service because of his age.
But his political influence has remained.
Despite being officially barred from public office and expelled from the Italian Senate, he has continued to head the Forza Italia party, and his name appeared on ballot papers during Italy's 4 March general election.
He has also proven to be a point of contention in talks between League and Five Star – both populist parties – to form a government, ahead of Sunday's deadline.
Five Star had urged the League to end its links with Mr Berlusconi, whom it sees as a symbol of the corrupt political practises it rejects.
Mr Berlusconi, on Wednesday, said he would not stand in the way of coalition between the two parties, although he said his Forza Italia party would not back a confidence motion of it in parliament.