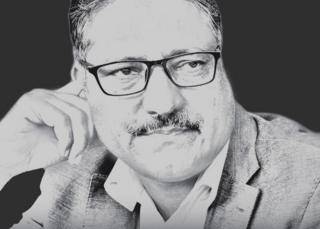 Andrew Whitehead, a former BBC India correspondent, has been travelling to and reporting on Kashmir for 25 years. He offers this tribute to his friend, Shujaat Bukhari, editor of Rising Kashmir, who was shot dead in Srinagar on Thursday evening.
Kashmir is a conflict which consumes the best of its people. Shujaat Bukhari was a proud Kashmiri, a champion of its language and culture, and someone who sought dialogue over slogans and violence. His independence of mind has cost him his life.
One of the chinks of light in Kashmir is the growth of a vigorous local press. On the newsstands in downtown Srinagar, you can see 10 or so English language daily newspapers alongside titles in Urdu and Kashmiri. Rising Kashmir, Shujaat Bukhari's paper, shines with energy and editorial vigour.
Shujaat built round him a young and talented team – he was proud that women were prominent among them – who shared his vision of a vigorous, inquisitive and non-partisan press which held to account not only the government but separatists too.
Earlier, he had been the Srinagar correspondent for one of India's liberal daily papers, The Hindu, and pulled off that difficult task of informing India's opinion makers about a corner of their country they sometimes seem determined to forget.
Shujaat himself was a big man, bespectacled, with a warm smile and generous manner. He had a knack of making friends. He was wonderfully well-informed. If you wanted to work out what was happening in Kashmir – not the superficial story but what was working away underneath the surface – Shujaat was the man to talk to. He had contacts on every side. And he was keen to listen too. He wanted to understand how Kashmir was seen from afar.
When I was in Srinagar a little over a year ago, Shujaat lent me his spare mobile phone. International phones don't work there, and it's not the sort of place where you want to feel cut off and out of contact. I wanted to see round his office, and he arranged that I would come and chat to his journalists.
I was a few minutes late – sheltering from a rain storm. Shujaat called me up and said, "Hey Andy, where are you? We're all waiting. We've got tea and Kashmiri pastries". He epitomised Kashmiri hospitality. I spent an hour chatting to his reporters: about what was happening in global journalism, the rise of digital platforms, styles of reporting, achieving balance when passions are so roused – and why Kashmir, a conflict which has smouldered for 70 years, gets so little attention in the world's media.
In London, I'd met up with Shujaat at a gathering to encourage informal dialogue about Kashmir across ceasefire lines and borders. He travelled a great deal – I recently followed his tweets from a global editors' conference in Lisbon – and wanted Kashmir not to be sealed off from the world, but open to new ideas and approaches.
Shujaat was brave – as so many of Kashmir's journalists have to be. In Kashmir, he had a personal security team following a previous threat to his life. He had also bounced back from serious ill health – he was leaner, and the twinkle in his eye was, if anything, more intense.
He was just the sort of man – wise, friendly, confident, courageous – that Kashmir needs if it is to find a way out from a deepening political impasse. He died during the holy month of Ramadan – and when there are stirrings, just stirrings, which suggest a fresh willingness to talk about easing Kashmir's agony.
Last night as he was leaving his newspaper office in Srinagar's press enclave, Shujaat Bukhari was gunned down. His two personal security officers were also killed. A targeted attack. And, alas, not the first time a leading Kashmiri journalist has been subject to such outrage. I feel so sad for his family, his colleagues, his many friends – and for Kashmir.