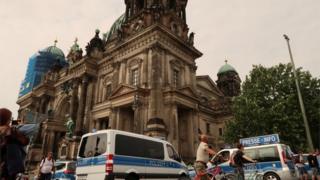 Armed police have cordoned off Berlin Cathedral after an officer reportedly shot a man inside the building on Sunday afternoon.
Eyewitness video showed crews with submachine guns and police tape being put up around the cathedral.
"A shot was fired in the Berlin Cathedral," a police spokeswoman told Reuters news agency.
The elaborate 19th Century church is located in the centre of Berlin on the historic Museum Island.
The circumstances of the shooting incident remain unclear, but unconfirmed reports in local media suggested a police officer has been injured.