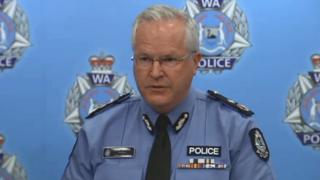 Seven people have been found dead at a rural property in Western Australia (WA), police have confirmed.
The bodies of four children and three adults were discovered in the town of Osmington, 280km (170 miles) south of Perth, on Friday.
Two firearms were found at the scene.
"The bodies of two adults were located outside [and] five bodies were located inside a building on the rural property," said WA Police Commissioner Chris Dawson.
"It appears that gunshot wounds are there, but I don't want to go further than that."
He would not confirm media reports that it was a suspected murder-suicide, but said there was no ongoing threat to public safety.
The victims were most likely residents of the property, authorities said.
"I'm not in a position to release any further details about the identities of the deceased," Mr Dawson said.
"The loss of any life is tragic, but four children and three adults – this is a significant tragedy."
He said police would launch a large-scale investigation, and were contacting relatives of those who had died.
"This devastating tragedy will no doubt have a lasting impact on the families concerned, [and] the whole community," he said.
Authorities were called to the scene at 05:15 local time (21:15 GMT on Thursday) after receiving a phone call from a "male person", Mr Dawson said.