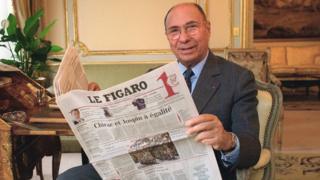 French entrepreneur and politician Serge Dassault has died at the age of 93, his family has said.
Mr Dassault led the Dassault group after his father, Marcel's, death in 1986. The group has numerous firms in aeronautics and armaments and owns the French newspaper, Le Figaro.
Mr Dassault was one of France's richest men and ranked high on the billionaires list of both Bloomberg and Forbes.
They put his worth at about $26bn-$27bn (£19.5bn-£20bn).
Mr Dassault was also involved in politics and had served as a senator and a mayor of a town south of Paris.
French news channel BFMTV reported that Mr Dassault died after he had a heart attack at the headquarters of the Dassault Aviation group on Monday.
The Dassault Group holds a majority stake in Dassault Aviation, the manufacturer of the Mirage and Rafale fighter jets.