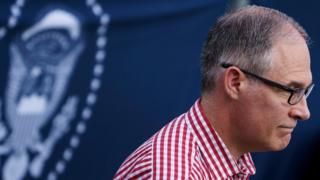 Scandal-hit Scott Pruitt has resigned as head of the US Environmental Protection Agency.
President Donald Trump said Mr Pruitt had done "an outstanding job, and I will always be thankful to him".
But since taking office Mr Pruitt has been mired in series of scandals concerning his spending habits and alleged misuse of office.
His deputy Andrew Wheeler will take over as acting head of the agency, Mr Trump said.
Mr Pruitt is the subject of at least a dozen investigations into his conduct.
He has been under scrutiny for renting an apartment with ties to a fossil fuels lobbyist.
He is also accused of bypassing the White House to secure big pay rises for two long-time staff members.
Meanwhile he has angered many liberals and environmentalists by severely curtailing the agency's activities and repealing many measures designed to protect the environment.