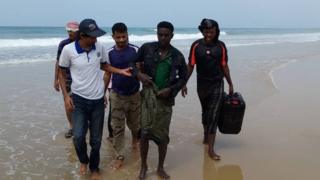 At least 46 migrants trying to cross from Somalia to Yemen have drowned when their boat capsized, UN officials say.
Another 16 people are missing after the vessel overturned in rough seas off Yemen's coast, the International Organization for Migration (IOM) says.
Survivors say the smuggler's boat was carrying at least 100 people who had left the port of Bosaso to find work in Yemen and other Gulf countries.
All the migrants were Ethiopian nationals, reports say.
The IOM says the boat capsized in the Gulf of Aden on Wednesday morning. Among the victims were 37 men and nine women.
A number of passengers on board the crammed vessel were without life jackets, survivors say.
"Over 7,000 poor migrants take this perilous journey every month; some 100,000 took it just last year," said IOM official Mohammed Abdiker.
"They are treated appallingly and go through horrendous conditions. This has to end," he added.
Migrants and refugees have been travelling to Yemen from the Horn of Africa for decades because of its proximity and the perception of the country as a gateway to other Gulf states and Europe.
But the country is in the midst of a civil war and is facing a dire humanitarian crisis.
A note on terminology: The BBC uses the term migrant to refer to all people on the move who have yet to complete the legal process of claiming asylum. This group includes people fleeing war-torn countries such as Syria, who are likely to be granted refugee status, as well as people who are seeking jobs and better lives, who governments are likely to rule are economic migrants.