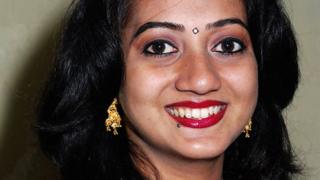 Her story was one that galvanised a movement; her face became a symbol of that movement.
Savita Halappanavar died from infection after miscarrying her first child in an Irish hospital in October 2012.
Her family said she pleaded for a termination during the miscarriage, but medical staff refused her requests because there was still a foetal heartbeat.
Mrs Halappanavar's death caused international controversy and sparked a campaign to have Ireland's abortion law liberalised.
Her parents have now said she will "rest in peace" after Irish voters backed a referendum to overturn the country's ban on abortion.
The death of the 31-year-old dentist, who was originally from India, became a catalyst for groundbreaking social change in Ireland.
Mrs Halappanavar was 17-weeks pregnant with her first child when she was admitted to University Hospital in Galway.
Now, almost six years on from her unexpected death, voters have agreed to remove the Republic of Ireland's constitutional ban on abortion and there have been calls to name the new legislation Savita's Law.
At her home in Belgaum, southwest India, Savita's mother described the referendum result as a "victory" on behalf of her late daughter.
"It was a battle of six years and the battle is won," Akkamahadevi Yelagi said.
"Her soul will rest in peace now."
Mrs Yelagi also told the BBC's Swati Patil: "We are thankful to those who fought the battle for my daughter."
Savita's father, Andanappa Yalgi, told other news outlets he supports calls for the new legislation to be called Savita's Law.
On Friday, people in the Republic of Ireland voted to remove the Eighth Amendment of the Irish Constitution, which gave the unborn an equal right to life as a pregnant woman.
It effectively banned abortion in the Republic of Ireland, although terminations could be carried out if a woman's life was at risk.
Crowds of pro-choice campaigners chanted the name 'Savita' outside Dublin Castle as the official results of the referendum were announced on Saturday.
A new mural dedicated to Mrs Halappanavar, which appeared last week in the city, has become a focal point for the pro-choice movement.
Many people left floral tributes and handwritten notes saying that her death had influenced their decision to vote.
One of the notes read: "Sorry we were too late but we are here now, we didn't forget you."
At the time of her death, Savita's widower, Praveen Halappanavar, said hospital staff refused their requests for an abortion during the miscarriage because there was still a foetal heartbeat.
He also said staff told them that Ireland was "a Catholic country".
At the inquest into Savita's death in 2013, midwife Ann Maria Burke apologised for making that remark and said she was trying to explain the position in Ireland on abortion to somebody not from the island.
A leading Irish obstetrician told the inquest that Savita would probably have survived if she had got a termination in the first three days of her stay in the hospital.
Dr Peter Boylan, the former master of Ireland's National Maternity Hospital, added that under Irish law an abortion would have been illegal because there was "not a real and substantial risk to her life at that stage".
By the time her life was at risk, it was too late to save her with a termination.
The cause of her death was listed as septic shock, E coli in her bloodstream and a miscarriage at 17 weeks.
The inquest jury recorded a verdict of "medical misadventure" and a health watchdog's investigation identified multiple failings in her medical care.