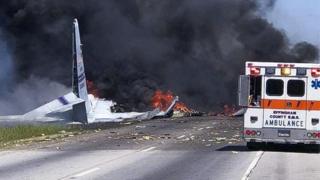 Five people have died after a military cargo plane crashed in the southern US state of Georgia, officials say.
They were aboard the C-130 plane when it came down beside a highway intersection near the local airport in the coastal city of Savannah.
The plane belonged to Puerto Rico Air National Guard and was on a training flight, the National Guard said.
Images shared on social media showed wreckage engulfed in flames and black smoke spewing into the sky.
Georgia Air National Guard Capt Jeffrey Bezore said in a statement that five people were on the plane. They would be named upon notification of their next of kin, he said.
One Instagram user, pilotgabe, posted a picture of the scene from the Hilton Head International Airport.
Firefighters were on the scene, tweeted the Savannah Professional Firefighters Association.
The local emergency management agency told drivers to avoid the area of the crash.