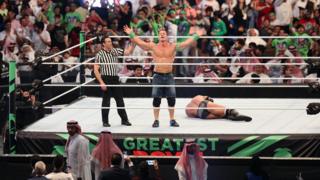 Saudi Arabia's sport authority has apologised for the appearance of scantily clad women during a wrestling broadcast.
World Wrestling Entertainment (WWE) held matches in Jeddah, billed as its Greatest Royal Rumble.
Men and women attended, although no female wrestlers were allowed to take part in the fights.
But state television cut off its broadcast of the event when promotional footage showing female wrestlers aired.
The footage rolled on giant television screens around the arena during the fight.
Saudi General Sports Authority apologised for what it described as "indecent scenes".
New public entertainment meets old ways
By Sebastian Usher, BBC Arab affairs editor
The razzmatazz of this wrestling extravaganza would once have seemed deeply alien in Saudi Arabia.
But public entertainment has arrived in the country with a bang in the past year or two – and some 60,000 people filled the auditorium, including many women, who have already been allowed to attend football matches for the first time this year.
There had been criticism of the WWE before the event for bowing to Saudi tradition by keeping female wrestlers off the bill.
As it turned out, the event – which was broadcast live on several Saudi outlets – did infringe on local sensitivities when a promotional film featuring female wrestlers was broadcast on the screens.
State television broke off its coverage at this point – but it still provoked criticism on social media from a variety of conservative Saudi voices.
The show also drew a mixed reception for a staged fight between Saudi Arabia and Iran.
The Saudis easily beat their regional rivals, but online some were surprised an Iranian flag was allowed to be waved in the stadium.
Others however viewed it more as wishful thinking from the Gulf kingdom.
Men, women and children filled up the 60,000-seat King Abdullah Sports City Stadium – although women had to be accompanied by their partners.
The fight was reportedly funded by the Saudi General Sports Authority, as part of a long-term deal with WWE.
Wrestling is popular throughout the Middle East. There is an Arabic WWE website and the organisation has held matches in other countries in the region.
It comes as Saudi Crown Prince Mohammed bin Salman pushes a new reform agenda in the kingdom, allowing women to drive and even join the military.
But some criticised WWE online for the lack of women wrestlers in the show itself, especially since the organisation had recently won plaudits for giving women more central roles in fights.
Many of the female wrestlers were watching from home as their male colleagues took part in the fight.