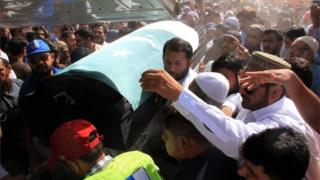 The funeral of a Pakistani student killed in last week's Texas school shooting has taken place in Karachi.
Sabika Sheikh, who was 17, was among the eight students and two teachers killed in the attack in Santa Fe.
Her body was flown back to Pakistan on Wednesday. Senior politicians were among hundreds at the funeral.
The gunman, identified as 17-year-old Dimitrios Pagourtzis, is being held on murder charges and could face the death penalty.
Sabika Sheikh had been due to return home to Pakistan in just a few weeks' time, ahead of the Muslim festival of Eid.
Instead a coffin containing her body was flown back to Karachi airport in the early hours of the morning.
She had been studying in Texas for the last year as part of a US government programme to improve understanding between America and Muslim countries. Her family said she had hoped to one day work as a diplomat.
Her father told the BBC he wanted his daughter's death to be a catalyst for change to America's gun laws.
What happened during the attack?
Students said the shooter entered an art class and opened fire shortly before 08:00 (13:00 GMT) on Friday. There were 1,400 students in the school at the time of the attack.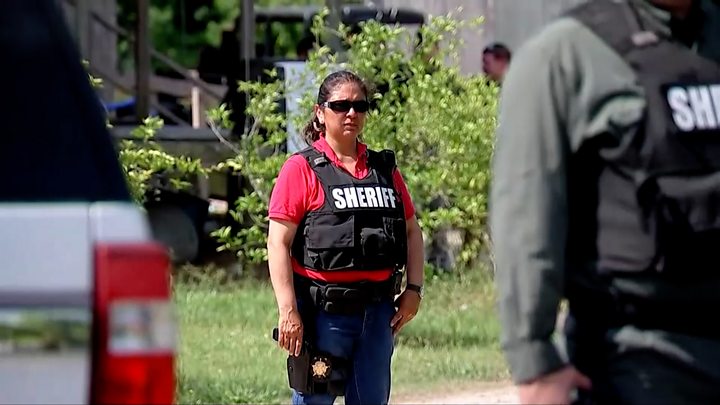 Police later found information in the suspect's diary, and on his computer and mobile phone, suggesting that he had planned the attack and intended to kill himself afterwards.
So far this year, more than 5,000 people have died in shooting incidents in the United States, according to monitoring group the Gun Violence Archive.
How does it compare with previous school shootings?
The Texas attack is the deadliest school shooting since a student opened fire in February at Marjory Stoneman Douglas High School in Parkland, Florida, killing 17 people.
That assault spawned a nationwide youth-led campaign for gun control, and a litany of proposed changes:
Gun control advocates have criticised what they see as minor changes amid continued support for the NRA from leading politicians.
The worst shooting at a place of education in US history occurred at Virginia Tech university in 2007, where 33 people were killed and 25 injured.
There have been more deaths in US school shootings so far in 2018 than there have been deaths in the US military, according to an analysis by the Washington Post.