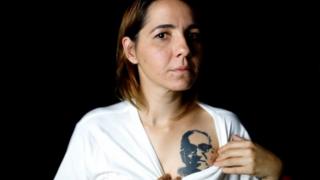 Hundreds of churchgoers in Central America have begun celebrations to mark Sunday's canonisation of the murdered Salvadoran Archbishop, Oscar Romero.
Oscar Romero was an outspoken advocate for peace during El Salvador's civil war, and was gunned down by right-wing soldiers while giving mass in March 1980.
His killers have never been brought to justice, protected by a 1992 amnesty.
Pope Francis will canonise him in Rome on Sunday.
The bestowing of a sainthood onto Archbishop Romero has long been called for by Catholics in the region who see him as the saint of central America, the BBC's Will Grant reports.
For the faithful, his power came from the fact he criticised both sides of the El Salvadoran conflict, both left and right, for any actions that affected civilians.
He is still despised by some on the far right, who describe him as a "guerrilla in a cassock", because he implored soldiers to listen to their heart and disobey orders.
Many Salvadorans are still angry that 38 years later, Archbishop Romero's killers have never faced justice.
His death horrified the world and escalated the violence in El Salvador that spiralled into a 12-year civil war that claimed 75,000 lives.