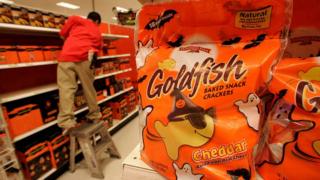 Salmonella fears have prompted a mass recall of the cheese-flavoured snack Goldfish Crackers in the US.
Pepperidge Farms, owner of the brand, announced the recall of about 3.3 million units of the product on Monday.
One of its suppliers warned that the whey powder used as seasoning may contain the bacteria, which can cause illness and in some cases may be fatal.
Food giants Mondelez and Kelloggs have also recently recalled products over salmonella concerns.
In a press release, Pepperidge Farms revealed the four varieties of Goldfish Crackers affected, along with the sell by dates of the units to be recalled.
There have been no reports of illness from customers, a spokesperson said.
The affected varieties:
Flavor Blasted Xtra Cheddar
Flavor Blasted Sour Cream & Onion
Goldfish Baked with Whole Grain Xtra Cheddar
Goldfish Mix Xtra Cheddar + Pretzel
Pepperidge Farms is the latest company to recall snacks in the US over salmonella fears.
Mondelez announced a recall of Ritz products over the weekend due to fears about the whey powder ingredient. Last month Kelloggs recalled 1.1 million packets of Honey Smacks cereals.
The US Food and Drug Administration (FDA) is also currently investigating an outbreak of salmonella linked to sliced melon. As of 19 June, 70 people across seven states had been infected, the FDA said.
And in January, French company Lactalis recalled more than 12 million boxes of powdered baby milk in 83 countries after salmonella bacteria was found at a factory.
Salmonella bacteria can cause fever, stomach cramps and diarrhoea and can be fatal for people with weakened immune systems.
Usually however, the infection last less than a week and does not require treatment.