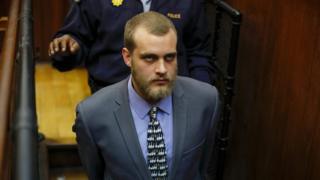 A South African man who murdered his parents and brother with an axe has been sentenced to life in prison.
Henri van Breda, 23, was also given 15 years for the attempted murder of his teenage sister, Marli, during the frenzied January 2015 attack.
Sitting in the High Court, Judge Siraj Desai said the "cold-blooded murders" had been carried out with "excessive and gratuitous violence".
Van Breda's defence lawyer says he intends to appeal.
The case has horrified South Africans, with one paramedic telling the court the scene in the family's upmarket Stellenbosch home was the worst thing he had seen in a career spanning almost four decades.
Van Breda, then just 20, used an axe to slaughter his father, Martin, 54, his mother, Teresa, 55, and older brother Rudi, 22, as they slept.
He also attacked his sister Marli, then just 16, apparently leaving her for dead.
Van Breda denied all charges against him, claiming he had also been a victim of a man he claimed had broken in and attacked his family.
However, the court did not believe his version of events, finding him guilty of three counts of murder, one of attempted murder and one of obstructing justice in May, more than three years after the vicious assault.
Sentencing Van Breda in the Western Cape High Court today, Judge Desai noted Van Breda had failed to give any explanation for his actions, or "displayed any remorse".
He added that "society expected no less" than the "severest possible penalties" for his crime.
A date to apply for leave to appeal his conviction and sentences, which will run concurrently, was set for 27 June.