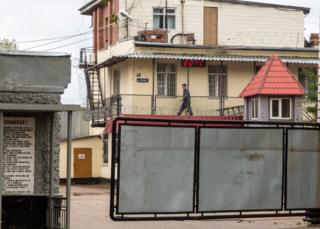 Handcuffed and helpless, Yevgeny Makarov is held face down on a desk as more than a dozen prison officers take it in turn to beat him.
They punch the soles of his feet first, then thrash them with truncheons.
This is no frenzied, spontaneous attack. The methods are calculated to cause maximum pain.
The guards have to rest, exhausted, between beatings.
The assault took place more than a year ago at Prison Number One in Yaroslavl, 272km (169 miles) north of Moscow.
The victim's complaint was rejected at the time; an investigator concluded staff had used "appropriate" force.
Now this explosive evidence has been published by a newspaper, shocking Russians and prompting demands for justice.
'I'm always in tears'
"I watched the video without sound at first – and not to the end," Yevgeny Makarov's mother tells me, in her first interview since the footage emerged. Tatyana says she hasn't slept properly since witnessing her son's suffering.
"I'm always in tears. I fall asleep seeing those guards' faces, and hearing the groans and the beating. It's very painful."
The leaked video sparked a public outcry.
Soon after its release, six of the men identified were detained by police. The rest have been suspended from duty and a new investigation launched.
Maxim Yablokov, 24, is clearly visible on the tape, striking the prisoner repeatedly. In court for a custody hearing he confessed to his role in the violence, and offered to testify against his colleagues.
Down the corridor, in another courtroom cage, a guard dubbed "SS" by inmates also admitted to taking part.
Tatyana Makarova did not attend the court session. She tells me she is too nervous to show her face. Her son's lawyer, who somehow got hold of the footage, has had to leave the country for a while after receiving threats.
"It's very rare to get recordings like this, or any kind of evidence, so you can prosecute," Irina Biryukova explains, when I call. "The guards feel they can get away with it, so they carry on using force."
The lawyer had seen Yevgeny in prison five days after he was assaulted and says he could hardly walk.
Yevgeny explained that he had found a letter from his mother on his cell floor where the guards appeared to have walked over it. When he swore at them, they told him he'd pay for that, the lawyer says.
Read more on Russian human rights controversies:
Known as IK-1, the prison is about half an hour's drive from the city centre.
A cluster of badly run-down buildings, with poorly patched holes in the perimeter wall, IK-1 is a far cry from the carefully restored churches and attractive parks of Yaroslavl. Yevgeny has since been moved, for his own safety.
Russia's prison authorities have now pledged a thorough inspection of all detention facilities, as a full inquiry into events at IK-1 is conducted.
But Yevgeny is not the only inmate who has reported abuse there.
"They beat me from behind, using hands, legs and rubber sticks – everything," says Ivan Nepomnyashykh, relating his own horror story. One of a group of anti-Putin protesters imprisoned after a mass rally in Moscow in 2012, he spent some time in a cell next to Yevgeny.
In April 2017, Ivan says, the guards lined the corridor and made him pass repeatedly, as they hit him.
"They were trying to force me to run, but I refused. After the third time, they brought me to another room. There were approximately 20 of them, and they beat me there."
Ivan describes such violence as "very common", even "routine".
Rare view of brutality
The Federal Prison Service declined to be interviewed whilst an investigation is ongoing. But a recent report by the office of the state human rights ombudswoman recorded 905 complaints of ill treatment last year, up 15% on 2016.
The local ombudsman in Yaroslavl, Sergei Baburkin, argues that violence against prisoners is not systemic. He admits, though, that holding abusers to account is very difficult.
When he looked into Yevgeny's case last year, the guards produced a video of him resisting orders to leave his cell, being aggressive.
The ombudsman didn't insist on viewing what happened next.
"It was pointless. They showed me what they showed me. The official part," he says, although all guards are obliged to wear bodycams. Sergei Baburkin admits they are used "selectively", and "in the guards' interests, to cover up crimes".
That is why the case of Yevgeny Makarov is so exceptional.
"People had to see this video to understand what's going on in our prisons," his mother tells me. Tatyana says other inmates' mothers have been contacting her ever since with similar tales.
"I want everything to be exposed, at last, and for those men to be judged as they deserve," she says. "I want them to be punished."