By Tom Gerken, BBC UGC & Social News And Katherine Zeveleva, BBC Monitoring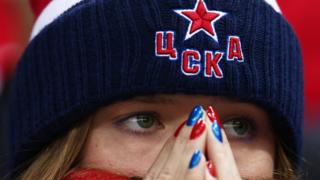 A prominent Russian MP has been heavily criticised after urging women not to have sex with foreign men during the World Cup.
Communist Party MP Tamara Pletnyova told a Moscow Radio station that she was "not a nationalist" but believed Russian women should avoid sex with people "of a different race" because "their children suffer".
She was responding to a question about the "kids of the Olympics" – referencing the claim that there was a spike in births of mixed-race children in Russia after the 1980 Summer Olympics.
Ms Pletnyova said that these children were "abandoned" by their foreign fathers.
"It's not so bad if the fathers are of the same race," she said. "But if they are of a different race, then that's it.
"[The children] are abandoned, and they stay here with their mother. We should be giving birth to our children."
You may also like:
'Say No to Racism'?
Ms Pletnyova has been widely condemned online, with some people drawing parallels between her comments and Fifa's Say No to Racism campaign.
Recalling how a former ice skater defended a racist tweet by claiming her Twitter account had been hacked, radio presenter Tayana Felgengauer wondered if Ms Pletnyova might claim something similar had happened to her.
"I wonder what Pletnyova will say when they remind her of Say No to Racism," she tweeted.
Further critics of Ms Pletnyova have included one who called for her to be "thrown out of the Duma" (Russian parliament).
One Twitter user wondered if the Russian MP intended to "monitor the behaviour of female Russians of reproductive age", while another pointed out the irony in the fact Ms Pletnyova had previously been "the head of the Committee for Nationalities".
But not all the comments have been negative.
Some people have agreed with Ms Pletnyova that "we should bear our own Russian children". And one asked: "What is wrong with what she said?"
While others have come forward to defend her right to free speech, with one person saying: "I believe that everyone can freely express their views, including MP Pletnyova."