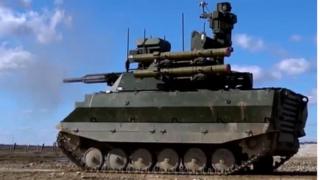 Russia's big Victory Day parade on Wednesday will feature a remote-controlled tank and other new weapons systems combat-tested in Syria.
The Uran-9 tank is armed with anti-tank rockets, a cannon and a machine-gun.
President Vladimir Putin restored the Soviet-era tradition of parading the latest armour and missiles on 9 May. It is the day Russians honour the millions who died fighting Nazi Germany.
New infantry buggies, drones and an anti-ship missile will also go on show.
Russia's Gazeta.ru news reports (in Russian) that the Uran-9 and a "robot sapper" – a mine-clearing vehicle – called Uran-6 have both performed well for Russian forces fighting in Syria.
Russia has deployed special forces and a big array of warplanes to help Syrian President Bashar al-Assad against various rebel groups, including Islamic State (IS).
Gazeta.ru reports that the Uran-9 can locate a target itself but the decision to fire is taken by a commander sitting in an armoured truck up to 3km (1.8 miles) away.
The Uran-6 robot-sapper was used to clear mines in the Syrian hotspots of Palmyra, Aleppo and Deir al-Zour. Its controller steers it from a distance of up to 1km.
The Uran-6 blew up mines at a safe distance from government troops, enabling them to move into rebel-held areas, Gazeta.ru said, quoting Russian Deputy Defence Minister Yuri Borisov.
Read more stories related to this topic:
For the first time the parade will include all-terrain, two-man infantry buggies. They are basically Russian-made quad bikes, which can be fitted with a machine-gun.
The small AM-1 vehicle is designed for infantry or special forces scouting missions and raids in especially rugged terrain, such as the Arctic, deserts or marshes.
Russia plans to display an all-weather drone called Korsar, which can be used for missile attacks, reconnaissance or delivering supplies.
It can fly for up to 10 hours, at heights of up to 6km and its maximum range is more than 160km.
According to Mr Borisov, the Russian military has various types of drone (also called unmanned aerial vehicles, UAVs), but just two will be in the parade: the Korsar and a helicopter-style one called Katran.
If Moscow has good weather on Wednesday there will also be a big fly-past, including fighters, bombers and helicopters.
For the first time MiG-31 fighters are to fly armed with Russia's new Kinzhal hypersonic anti-ship missiles. They are designed to destroy aircraft carriers and anything smaller.
Russia also plans to display the pride of its air force – the new Su-57 stealth fighter, also known as the T-50. It is among the many weapons systems combat-tested in Syria.