By Tom Gerken, BBC UGC & Social News And Katherine Zeveleva, BBC Monitoring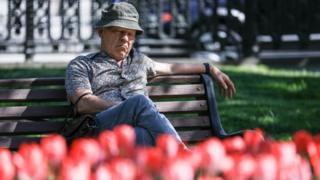 Why have a pension if you would not live long enough to receive it?
This is the question Russian people are asking after the Moscow government increased the male retirement age to two years above the average life expectancy.
The proposals – including an increase of VAT to 20% – came as many Russians were watching their national team beat Saudi Arabia 5-0 in the opening game of the World Cup, with social media users criticising the timing of the announcement.
"While everyone was busy with the opening of World Cup 2018, Medvedev announced the pension age in Russia should be increased," tweeted Yoshkin Mole. "I remind you: 43% of males in Russia will not live until their retirement age!"
You may also like:
Prime Minister Dmitry Medvedev proposed increasing the pension age for men from 60 to 65 years old, and increasing the pension age for women from 55 to 63 years old.
The draft legislation was discussed in the Russian cabinet on Thursday, with many pointing out on social media it would make retirement age higher than the average male life expectancy in Russia.
According to data firm World Bank, only 57% of Russian males are expected to live past 65 – a figure which has not changed in the past 50 years. In contrast, women are expected to live to 75.
'The World Cup was your pension'
The announcement has been met with outrage on Twitter, with Russian officials accused of using the football tournament as a diversion.
"What a great distraction football is", said one person on Twitter. "While we are happy, the pensions and VAT have been increased. Olé, olé!"
Other users criticised those celebrating after the victory over Saudi Arabia, while some have speculated that any money saved by increasing pension age has already been spent.
"Did the Olympic Games take place? Yes. Was [the Crimean] bridge built? Yes. Is there a World Cup? Yes. Then why aren't you happy about pensions? That was your pension!" tweeted VID.
Others agreed, with one person saying they would choose pensions over football matches, and opposition politician Ilya Yashin calling the Russian government's proposals "mad" on Facebook.
Surviving to retirement age has been labelled "a new quest in Russia" – leading @DurdomOnline to ask: "Why do you need a pension if you won't live to see it?"