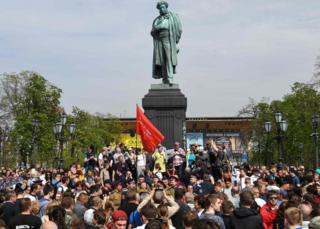 Opposition demonstrations are being held across Russia on the eve of Vladimir Putin's inauguration for a fourth term as president.
Alexei Navalny, who was prevented from standing in the country's election in March, is organising the protest.
Several dozen people were arrested after rallies were held in Russia's Far East and Siberia.
Rallies are also starting in Moscow and St Petersburg, despite having no permission from the authorities.
Crowds gathered on Moscow's Pushkin Square shouting slogans such as "Down with the Tsar!" and "Russia without Putin".
But activists from the pro-Kremlin National Liberation Movement are staging a rival rally at the same location.
Reports say that arrests have already started at the Moscow rally.
Mr Putin was re-elected president with more than 76%, his best ever election performance.
But the opposition and some international observers reported widespread irregularities in the vote.
Mr Navalny was barred from running for office because of a conviction for embezzlement. He says his legal troubles are Kremlin reprisals for his fierce criticism.
The protests are being held under the slogan "He is not our Tsar!"
The Moscow city authorities have warned people of possible "negative consequences" of taking part in unsanctioned rallies.
"And I would like to warn everyone of the negative consequences of non-participation in the rallies," Mr Navalny responded in a tweet (in Russian).
"If you stay at home, Putin's gang will tear the country apart and deprive you personally of a future."
Mr Navalny is expected to appear at the Moscow rally, though reports say he was forced to stay at a secret location on Friday night to avoid arrest.
Opposition groups and independent monitors OVD-Info reported arrests in the cities of Krasnoyarsk, Novokuznetsk, Chelyabinsk, Barnaul and Samara. One report said as many as 150 people were arrested in Krasnoyarsk.
There are fears that protests could lead to clashes similar to those that happened in 2012, when Mr Putin returned to the presidency after four years as prime minister.