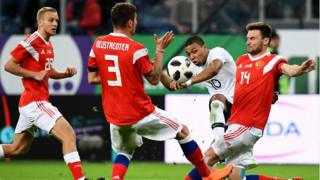 This summer's World Cup in Russia could well be the last one staged by just one country for some time, as financial and political considerations play an ever-increasing role in choosing hosts.
With the cost of this year's event soaring to £8.8bn ($12bn) football authorities and bidding nations are looking at a ways of sharing the daunting financial costs and boosting political relationships.
The answer is joint hosting. In 2002, South Korea and Japan jointly staged the World Cup so there already is a precedent, while several European Championships have also been jointly hosted.
It means the load can be spread when it comes to building new stadiums and supporting infrastructure such as roads, railways and airports, as well as security.
"There are material benefits from sharing the hosting of major events, not to mention being politically expedient," says Simon Chadwick, professor of sports enterprise at Salford Business School.
"It is a helpful way of building a relationship with a number of partners for political purposes.
"There are benefits in terms of certain cost efficiencies. There are huge financial issues around hosting costs when it comes to World Cups, European Championships and Olympic Games.
"This 'distributed events' model may be the way forward when you consider the economic costs of events hosting."
Joint hosting
There is already a joint USA-Canada-Mexico bid in to host the 2026 event, and Argentina, Uruguay and Paraguay are putting together a bid for the 2030 event.
Meanwhile, there are signs that the 2022 World Cup in Qatar may have to be widened to include other Middle Eastern nations after world governing body Fifa said it could expand that tournament from 32 to 48 teams.
As mentioned, European governing body Uefa has long been a supporter of hosting their major tournament for international teams in more than one country.
Kicking off in 2000, when the event was held in the Netherlands and Belgium, it has has subsequently been staged in Austria-Switzerland in 2008 and Poland-Ukraine in 2012.
And the finals of the 2020 Euros will be staged across no less than 12 football nations to mark the 60th anniversary of the first tournament.
"Former Uefa president Michel Platini was credited with the Euro 2020 model, but really the brains behind the throne was Gianni Infantino," says Prof Chadwick.
Ex-Uefa general secretary Mr Infantino is now president of Fifa, and has talked of expanding the 2022 World Cup from 32 to 48 teams.
As Qatar could not host that amount of games, there is talk of bringing in other nations in the region..
"When you look at the 2026 and 2030 tournaments, then Infantino may now preside over one, or indeed more, World Cups that could adopt a similar type of model to Euro 2020," says Prof Chadwick.
"He has an eye for trying to reconcile disparate partners over hosting. He is shrewd in that sense."
Safe option
For Fifa the idea of a 2026 World Cup in the USA, Canada, Mexico, would be an economically and politically safe option after some of the issues around Qatar 2022, adds Prof Chadwick.
The organisers of the bid claim it would make an $11bn (£8.1bn) profit for Fifa, and create $14bn in revenue.
US President Donald Trump has been banging the drum for the bid, tweeting: "The US has put together a STRONG bid w/ Canada & Mexico for the 2026 World Cup."
But it is not a guaranteed shoo-in, and is up against rival bidders Morocco for what is be promised to be a 48 team World Cup.
Meanwhile in South America, Uruguay Sports Secretary Fernando Caceres has explained the reasoning behind their intended bid for 2030.
"We can't say what the final costs will be to each of our countries, but it cannot be measured only in the building of infrastructure.
"There's an intangible measure, which is how much a country earns in coexistence, in integration, identity, and the construction of citizenship by hosting an event of this magnitude."
Spreading hosting
David Davies is a former FA chief executive and also a football advisor whose expertise is frequently called upon by football associations and confederations globally.
"I happen to think that the idea of having 48 teams in Qatar will not happen," he says. "The political will, I think, is not there."
"But I agree that joint hosting is an established concept now. The fundamental point is that more countries can be involved and benefit from holding major events.
"That is one of the objectives of those who are in positions of influence in the game, to come up with these sorts of proposals to spread hosting to as many differing nations as they can."
A joint North American bid for 2026 would also be deemed useful politically, both within the US and the regional footballing body Concacaf, says Mr Davies.
"So while economic considerations are part of the picture, there are always over-riding political ones."
Pooling resources
Sean Hamil, lecturer at Birkbeck College's Sports Business Centre, says there are only so many countries who can host events such as Euros or World Cups by themselves.
"After the last Euros in France (in 2016) I don't think Uefa could find any more countries willing to take on the costs."
There has been a lot of research into sporting mega-event, "and the balance of opinion is that the economic benefits don't always stack up," he says.
"With a World Cup you need a large number of international-standard stadiums and it is a huge financial burden. so pooling resources in terms of stadiums to help spread that load would appear logical."