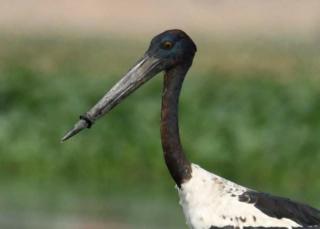 Indian wildlife enthusiasts and forest officials have been trying to rescue a rare bird whose beak has been trapped shut by a plastic ring.
The black-necked stork was first spotted with the ring around its beak in a wetland outside capital Delhi by a group of bird watchers on 7 June.
They believe the bird can drink water but say the ring is preventing it from opening its beak further to eat.
Rescuers are hoping to catch it before it starves to death.
"It has to be weak enough so that it doesn't fly away but if it gets too weak it will die," Pankaj Gupta, a bird watcher and member of the Delhi Bird Foundation, who has been involved with the rescue mission, told the BBC.
Mr Gupta said the ring, which he thinks could be from a bottle cap, likely slipped onto the stork's beak when it was hunting in the water and then got stuck there.
The stork was first photographed with the ring by Manoj Nair, another bird watcher, who sent the the photo to Mr Gupta. Mr Gupta and his colleagues shared the photo widely, which led to a rescue mission being assembled.
Efforts to save the stork are being led by members of the Bombay Natural History Society, an organisation that specialises in conservation, with help from local forest officials.
Mr Gupta, who had been in the field with the team until Monday, said they had first tried to build traps with nets but the stork had managed to fly away each time. So they have now decided to use nets made of bamboo and glue to catch it.
Black-necked stork, according to Mr Gupta, are classified as "near-threatened" and are native to parts of India, Indonesia and Sri Lanka. But only 50-60 of these birds are found in the marshy regions outside Delhi. They thrive in wetlands where they hunt fish and snails.
This particular stork was "massive", Mr Gupta said. He believed it could roam across 15-20 square kilometres, an area that roughly spans three different wetlands.
Although it was first seen in the Basai wetland, about 34 kilometres from Delhi, the rescue mission is underway in another wetland nearby, where it was spotted after that.
The Basai wetland has been in the news recently after bird watchers and local environmentalists challenged a government plan to build a factory there for recycling construction waste.
"The factory is good for the environment but why choose a wetland to build it?" Mr Gupta told the BBC.
The national environment tribunal will now decide if Basai should officially be recognised as a protected wetland.
Mr Gupta and his colleagues hope the plight of the stork will also help the cause of the wetland.