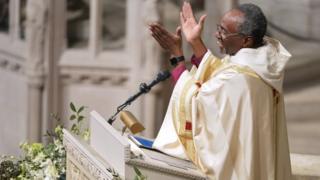 An American bishop is to give the address at the wedding of Prince Harry and Meghan Markle next week.
The Most Reverend Michael Curry became the first black presiding bishop of the Episcopal Church – like the Church of England, part of the Anglican Communion – when he was appointed in 2015.
Bishop Curry, from Chicago, said the couple's love had an "origin in God, and is the key to life and happiness".
The wedding will take place at Windsor Castle on 19 May.
The Dean of Windsor, the Rt Rev David Conner, will conduct the service before the Archbishop of Canterbury, the Most Reverend Justin Welby, officiates the ceremony in St George's Chapel.
Archbishop Welby said he was thrilled the prince and Ms Markle had chosen Bishop Curry to carry out the address, describing him as a "brilliant pastor, stunning preacher".
Ms Markle was baptised by the archbishop ahead of her nuptials to Prince Harry.
Celebrate and pray
Bishop Curry, who was ordained as a priest in 1978, is the chief pastor of the Episcopal Church and has spoken on issues including social justice, immigration policy and marriage equality.
He most recently campaigned for the creation of family day care providers, educational centres and investment in inner-city neighbourhoods in all three of his parish ministries – North Carolina, Ohio, and Maryland.
In North Carolina, he helped to refocus the church's development goals to fund malaria nets to save more than 100,000 lives.
Bishop Curry defended the Episcopal Church's move to allow same sex couples to marry in church in 2015, which caused some churches to cut ties.
The US Episcopal Church is one of only two Anglican churches worldwide that allow gay marriage in church – the other being the Scottish Episcopal Church.
Speaking after Kensington Palace announced his role on Saturday, Bishop Curry said: "The love that has brought and will bind Prince Harry and Ms Meghan Markle together has its source and origin in God, and is the key to life and happiness.
"And so we celebrate and pray for them today."
It comes in the wake of other revelations about the wedding, with the Duke of Cambridge taking up the honour of being Prince Harry's best man, and Ms Markle's father set to walk her down the aisle.
Some 1,200 members of the public have been invited to watch the ceremony on the grounds of the castle in Berkshire, and 250 members of the armed forces have been given ceremonial duties.
There is even a promise of confetti for train travellers hoping to catch a glimpse of the couple on their wedding day.
With less than a week to go, Prince Harry and Ms Markle's waxworks have been installed at Madame Tussauds, shops have stocked up on souvenirs, and Legoland's Windsor resort has recreated the wedding day.