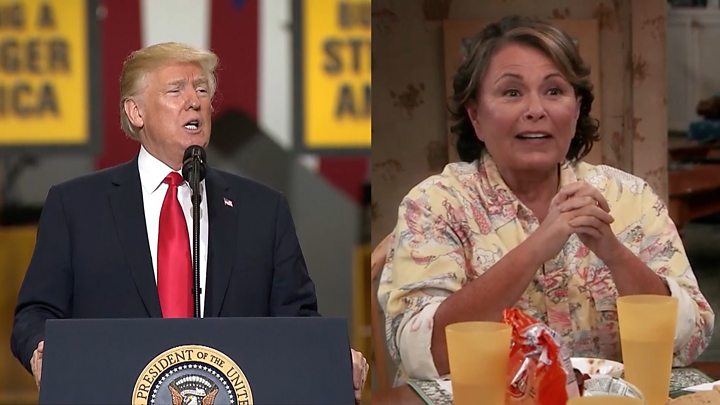 Roseanne Barr has blamed sleeping pills for her tweet likening an African-American former Obama aide to an ape.
The comedian said on Twitter her offensive post was a result of "ambien tweeting" – although she has since removed this comment. Ambien is a sedative used as a sleeping aid.
Barr's tweet said Valerie Jarrett was the child of the Muslim Brotherhood and the Planet of the Apes film.
ABC has cancelled Roseanne's sitcom in response to the racist tweet.
The television network said: "Roseanne's Twitter statement is abhorrent, repugnant and inconsistent with our values and we have decided to cancel her show."
The reboot of her hit sitcom Roseanne has been a ratings winner.
Barr deleted Monday night's post and said she was leaving Twitter, but has since posted a flurry of tweets including one claiming other comedians "have said worse".
In another tweet, the TV star said what she did was "unforgiveable" and, while asking fans not to defend her actions, tried to explain away the post as having been caused by the effects of the sedative Ambien.
A spokeswoman for Sanofi, the pharmaceutical company that makes Ambien, said in response to Barr's tweets about taking the sedative: "While all pharmaceutical treatments have side effects, racism is not a known side effect of any Sanofi medication."
"I apologise to Valerie Jarrett and to all Americans," Barr wrote following the outcry, defending her remarks as a "joke".
"I am truly sorry for making a bad joke about her politics and her looks. I should have known better. Forgive me – my joke was in bad taste."
Barr's initial tweet came in response to another Twitter user, who accused Mrs Jarrett of helping to conceal purported spying during the Obama administration.
Mrs Jarrett was a senior adviser to US President Barack Obama, and worked with him during his early days in Chicago politics.
She was born in Iran to African-American parents.
What else did Barr say?
Mrs Jarrett was not the only target of Barr's Twitter tirade in recent days.
On Monday, the 65-year-old entertainer incorrectly claimed Chelsea Clinton – daughter of former US President Bill Clinton and Hillary Clinton – was married to a relative of billionaire investor George Soros in a tweet.
Barr tweeted an apology to Chelsea Clinton on Tuesday.
Barr also alleged Mr Soros, who is Jewish, was a Nazi collaborator – a claim his spokesman labelled "an affront".
On Sunday, the comedian criticised the Obama family for signing on with Netflix to produce TV programmes and movies.
The comedian wrote on Tuesday she was "leaving Twitter", but returned shortly after with a string of tweets addressing the cancellation of her sitcom.
"I will handle my sadness the way I want to," she said. "I'm tired of being attacked and belittled more than other comedians who have said worse."
Barr also said that not only had her new series been axed, but also that older reruns of the sitcom had been cancelled by other networks.
A spokesman for Viacom, which owns various networks including Paramount, earlier said it would stop airing old episodes. The streaming service Hulu also said it would be removing the sitcom from its library.
Barr also tweeted Ms Jarrett to apologise for her original comment, which she said was "insensitive & tasteless".
---
A predictable end
By James Cook, BBC Los Angeles Correspondent
Well, that was predictable.
The return of Roseanne was as short-lived as it was spectacular.
Its star, Roseanne Barr, is the Donald Trump of sitcom: blunt, provocative and, at times, deeply offensive.
For years her social media activity was laced with profanity, provocation and peculiar conspiracy theories.
ABC executives knew all that when they took the risk on the reboot and at first it seemed the gamble had paid off.
Ratings were superb, while critics praised the sitcom for tackling American political divisions in a manner sympathetic to the millions of people who voted for Mr Trump – a group which often complained that TV wasn't made for them any more – while still entertaining millions of his opponents.
Now for the backlash from angry supporters of the show, the Trump administration and – one imagines – from the president himself.
---
What's the reaction?
Speaking at a prescheduled MSNBC town hall event on racism, Mrs Jarrett said the Roseanne Barr controversy was "a teaching moment".
She added: "I'm fine, I'm worried about all the people out there who don't have a circle of friends and followers coming to their defence."
She said that Robert Iger, chief executive of Disney, ABC's parent company, had called her to apologise and said he had "zero tolerance" for Barr's tweet.
Following ABC's cancellation notice, Barr's talent agency ICM Partners dropped her as a client.
Entertainment media report an internal email to ICM employees called Barr's tweet "disgraceful and unacceptable".
Sara Gilbert, who plays daughter Darlene on the series, posted on Twitter that Barr's comments were "abhorrent".
Emma Kenney, who plays Darlene's daughter Harris, said "the racist and distasteful comments from Roseanne are inexcusable", adding: "Bullies do not win. Ever."
Following Barr's offensive tweet, one of Roseanne's consulting producers, Wanda Sykes, had said she would not be returning to the show.
Danny Zuker, a writer for the original 1988 Roseanne show, said it was "nauseating" to see what Barr had become.
How did her show perform?
Her hit sitcom's cancellation comes just two months after it was revived.
The premiere in March pulled in more than 25 million people, with delayed viewing counted in.
It was renewed for a second season before the 10 episodes even finished airing.
The series depicted the Conners, an American family led by Roseanne, living in the fictional town of Lanford, Illinois.
The comedy series won conservative plaudits because Barr plays a supporter of US President Donald Trump, a group largely ignored by Hollywood.
Mr Trump, whom Barr also supports off-camera, had called to congratulate her on the success of the rebooted show.
The original Roseanne aired from 1988 to 1997 and was critically acclaimed for its portrayal of working-class Americans.
Over the course of its run, the sitcom picked up many awards, with its final episode drawing nearly 17 million viewers when it aired in May 1997.