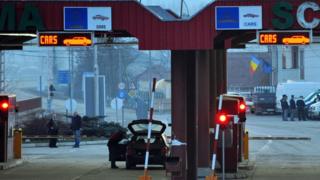 Romanian traffic police are investigating a 45-year-old man who they say illegally drove a car with licence plates featuring an obscene insult to the governing party.
Razvan Stefanescu was driving his Swedish-registered car when he was stopped by police on Monday morning.
They confiscated his number plates and driving licence.
The plates bore a slogan often used by anti-government protesters to criticise the Social Democratic Party (SPD).
A video showing the traffic police officers taking the plates off quickly went viral, with more than 1.5m views on Facebook. The video has been shared more than 21,000 times.
The case has gained national attention in the past week, with some Romanian media reporting that the car was only authorised to be driven in Sweden.
Police described the case as "unprecedented" and invoking an international convention, which says registration plates "shall be composed either of numerals or of numerals and letters".
Mr Stefanescu's plates had only letters.
However, the Swedish embassy in Romania posted on Facebook saying Mr Stefanescu's personalised registration was issued by the Swedish Transport Agency and valid for travelling in the European Union.
The embassy later clarified that some countries can refuse to accept certain registrations, in which the car owners should have the original plates to change them.
Speaking to the media, Mr Stefanescu said: "It's abuse. They let me cross the border and enter Romania without telling me that I was doing something illegal.
"So when I entered Romania I was legal, and then I was not? It's absurd. If I had a message about Santa Claus, they wouldn't have a problem with me."
He claimed he had been stopped four times since returning to Romania two weeks ago.
Romania has seen a wave of protests this year accusing the PSD, which came to power in December 2016, of trying to hamper the fight against corruption.