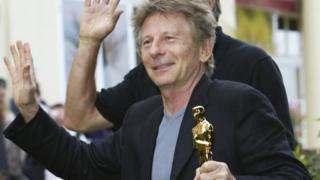 Director Roman Polanski has threatened to sue the body that runs the Oscars after he was expelled, 40 years after admitting having sex with a minor.
Polanski's lawyer has asked the Academy of Motion Picture Arts and Sciences to give him a fair hearing and "avoid an expensive lawsuit".
The director pleaded guilty to unlawful sex with a 13-year-old girl in 1977 and fled the US before being sentenced.
That didn't stop the Oscars awarding him the best director award in 2003.
Bill Cosby was also kicked out of the Academy earlier this month following his conviction for sexual assault, while Harvey Weinstein was expelled last year as a result of numerous allegations of sexual assault.
#MeToo 'mass hysteria'
In an interview given before his expulsion, Polanski described the Me Too movement as "mass hysteria" and "total hypocrisy".
His lawyer Harland Braun has written to the Academy to argue that the film-maker's expulsion went against the Academy's own standards of conduct and Californian law.
"The only thing we're asking for is a hearing, a chance to present his side," Braun told the Los Angeles Times.
"What I would hope is that [the Academy's legal counsel] would say, 'Let's avoid an expensive lawsuit. Let's just start over. We'll rescind the expulsion and we'll put him on notice that we're thinking of expelling him and we'll give you the opportunity to present your case.'
"That's the only rational thing. Otherwise, we've got to go to court and get a judge to rule that the Academy has to follow its own rules, which should be a no-brainer."
Offence 'wasn't a secret'
Mr Braun said he had also sent the Academy a clip of Polanski receiving a standing ovation when he won the best director Oscar for The Pianist – in his absence – in 2003.
He said: "When that award was given, everyone knew about the offence. It wasn't a secret. And all of the sudden, they turn on him and expel him without a hearing?
"I think they thought this was an easy one – an 84-year-old director's not going to fight it, right?"
The Academy hasn't commented. The move comes five months after the organisation approved new standards of conduct in the wake of the Hollywood sexual harassment scandal.
It said members must "behave ethically by upholding the Academy's values of respect for human dignity, inclusion, and a supportive environment that fosters creativity".
Abuses of power
It added: "There is no place in the Academy for people who abuse their status, power or influence in a manner that violates recognised standards of decency."
Any member found to have violated these standards may face suspension or expulsion, it added.
Meanwhile, in an interview published by Newsweek Polska, Polanski described the reaction to the sexual harassment scandal as "the kind of mass hysteria that occurs in society from time to time".
He continued: "Sometimes it's very dramatic, like the French Revolution or the St Bartholomew's Day Massacre in France, or sometimes it's less bloody, like 1968 in Poland or McCarthyism in the US.
"Everyone is trying to back this movement, mainly out of fear… I think it's total hypocrisy."
---
Follow us on Facebook, on Twitter @BBCNewsEnts, or on Instagram at bbcnewsents. If you have a story suggestion email entertainment.news@bbc.co.uk.