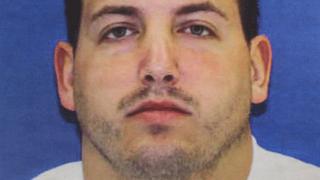 The leader of a rogue Baltimore police unit has been sentenced to 25 years in prison.
Ex-police sergeant Wayne Earl Jenkins, 37, led the elite Gun Trace Task Force until his arrest along with almost every member of the unit in March 2017.
He admitted robbing Baltimore citizens, planting drugs on innocent people and re-selling seized drugs such as heroin, cocaine and prescription painkillers.
Prosecutors depicted him as the rogue officers' once untouchable chief.
Jenkins must serve three years of supervised release after his custodial sentence.
He was convicted on multiple counts including racketeering, robbery and falsification of records.
Jenkins, who had been with the Baltimore Police Department since 2003, took over the Gun Trace Task Force (GTTF) in 2016.
According to the plea agreement, he stole money, property and narcotics by detaining victims, raiding homes, conducting traffic stops and faking search warrants.
He also submitted bogus incident and arrest reports to cover up his illegal activities.