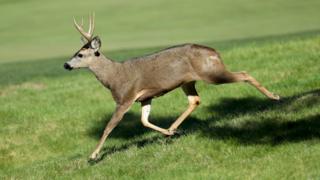 Oregon police have increased a reward for information leading to the culprit behind at least two dear spotted wandering and shot with arrows.
State police say the deer, found on Friday, are "able to feed and walk around" and did not appear to suffer life-threatening injuries.
Wildlife officials are searching for the deer to remove the arrows.
On Sunday a reward for the archer's arrest climbed to $2,000 (£1,450) after a local hunting group pitched in.
Warning: Images below are graphic.
Officials say they received a tip that "there might actually be a third deer with an arrow stuck in it".
Images shared by Oregon State Police showed an arrow stuck through a deer's head and another deer with an arrow protruding from its body.
The initial reward being offered through the state's anti-poaching programme had been $500 for information involving cases of "illegal possession, killing, taking, and/or waste" of certain animals.
A hunting group in the Shady Cove area, about 300 miles (480km) south of Portland, contributed another $1,500 on Sunday.
Oregon State Police spokesman Kaito Raiser told the Oregonian newspaper that responding officials were unable to capture the deer and tranquilise them to remove the arrows.
He added that the arrows are not the types used by hunters.
Police ask anyone with any information about the suspected archer to call their anti-poaching tip line.
You may also be interested in: