Lillian Suwanrumpha/AFP/Getty Images
Rescue divers were trying to get through a narrow passage in a flooded cave in northern Thailand where 12 boys and their soccer coach went missing more than a week ago.
The governor of Chiang Rai province, where the Tham Luang Nang Non cave is located, said rescuers had managed to reach a three-way junction leading to where the boys are believed to be, according to The Bangkok Post.
Friends and family members of the missing continued to cling to hope that their loved ones are still alive.
Thanakorn Ingsilapakul, 15, of Mae Sai Prasitsart school, where six of the missing boys attended, told Reuters he is "really worried," about his classmate in the cave, "but I am hopeful because my friend is strong."
According to Reuters, "The divers from a Thai navy SEAL unit were within [1,600 feet] of a chamber containing an elevated rock mound, nicknamed 'Pattaya Beach' by cavers, which could have provided the boys with a refuge when heavy rains flooded the cave, blocking the way out."
"The Seal unit last night reached the T-junction and today they will press ahead to the left, but one obstacle we've found is a very small hole which we need to widen so that people can go through," Governor Narongsak Osotthanakorn told journalists on Monday.
The boys, reportedly aged 11 to 16, and their coach went missing on June 23. Heavy rains that flooded cave passages are thought to have trapped them. Their bicycles, backpacks and soccer shoes were found near the cave's entrance.
Last week, a team from the U.S. Indo-Pacific Command, including survival specialists, were flown in from Okinawa to help with the search.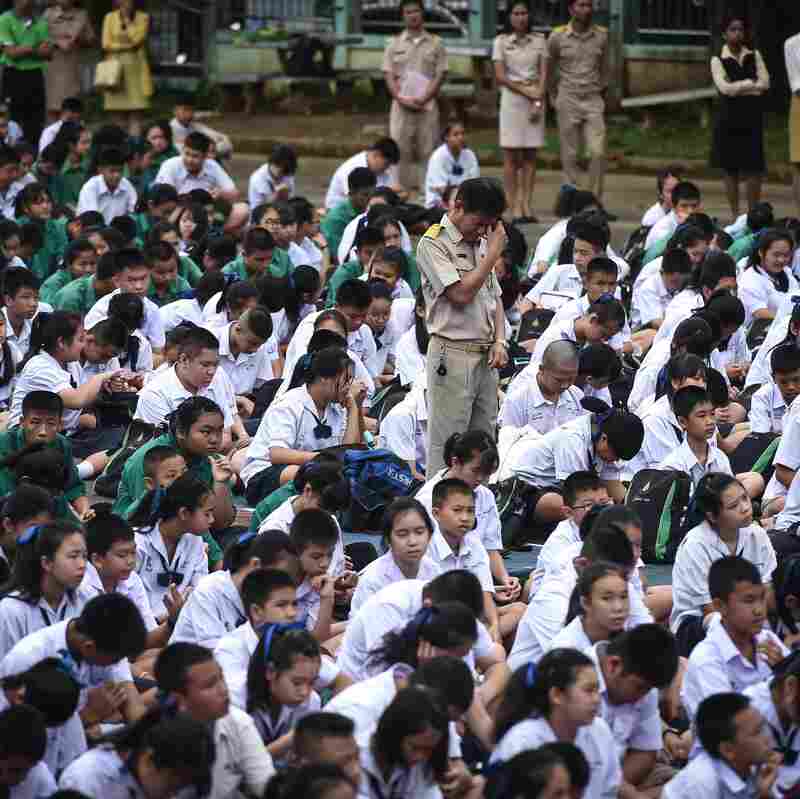 Lillian Suwanrumpha/AFP/Getty Images
Divers have thus far been thwarted by muddy water rising up in sections of the cave and forcing rescuers to withdraw over safety concerns, The Associated Press reports.
On Sunday, "the divers went forward with a more methodical approach, deploying a rope line and extra oxygen supplies along the way," the AP says.
The Post writes:
"Above the cave, officials and volunteers were searching for shafts that might provide a back door into the cave. 'We are exploring 11 potential shafts today. The deepest one is 200 metres [650 feet]. If it goes down through, we will be very lucky,' the Chiang Rai governor said.

Meanwhile, the navy deployed 20 more [SEAL] divers to the site, increasing their numbers to 84."