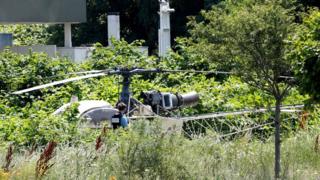 The dramatic jailbreak-by-helicopter of notorious French gangster Redoine Faid was carried out by four or five close and loyal friends, police say.
New details have emerged of the raid, in which the assailants cut their way into the visiting room of the prison before making their helicopter getaway.
French police warned that "beyond his charisma and aura, beyond the folklore, [Faid] is a dangerous individual."
France's justice minister has resisted calls to resign over the scandal.
"It goes without saying that I am entirely responsible for what happens in my administration, but I do not personally make these decisions," Nicole Belloubet told broadcaster RTL.
She also revealed that mobile phones would be completely jammed in French prisons from October.
Faid has called himself a huge fan of gangster films, which he credits with teaching him how to pull off extravagant heists.
He once told France's Point magazine he had watched 1995's Heat seven times at the cinema and "a hundred times on DVD" to dissect the scene of an armoured car robbery.
Thousands of police have joined a manhunt for the escaped gangster, who has not been seen since.
French police say they are still focusing on the domestic manhunt – but admit that Faid may have fled abroad.
Little is known about Faid's accomplices, said the head of France's organised crime unit Philippe Veroni.
"The first observations lead us to believe that the commando [unit] was composed of about four to five people – all unidentified, of course, all of them fugitives… who are probably close friends and loyal ones, who accept to take risks and suffer the consequences."
How did the raid happen?
On Sunday morning, two men, who he thought were a father and son in their 50s and 20s, went to a small flying club in Fontenay-Trésigny for a first-time flying lesson.
The pilot, Stéphane Buy, told French broadcaster RTL he had met them once or twice before, but that on Sunday the pair seemed to know a lot about him and the aircraft, requesting a specific helicopter.
He refused, saying it was unsuitable for beginners – but was then taken hostage and had his family threatened, he said.
The helicopter was directed to a field to pick up a third accomplice, and Mr Buy said he was told what to do at gunpoint.
At Sud-Francilien prison, Faid was in the visitor room with his brother when the helicopter landed in a courtyard – which was not covered in anti-aircraft netting because it had fallen out of use.
Shortly before noon, his accomplices used angle grinders and smoke bombs to force their way into the prison, while others guarded Mr Buy and his helicopter outside.
After taking to the skies, the group flew to the Gonesse area, abandoning the aircraft for a waiting vehicle, which was later found burned out. The white van they switched to was also found, burned, in the Oise area north of Paris.
Ms Belloubet called the operation "a spectacular escape" and said the group may have used drones to survey the prison in advance.
It is not the first time an inmate has escaped by helicopter – convicted killer Pascal Payet famously escaped twice using the same method – and Sunday's breakout has prompted widespread debate in France about prison security.
Who is Redoine Faid?
Faid, aged 46, is on-the-record about his love of Hollywood heist movies, saying they inspire some of his schemes.
He once approached director Michael Mann – who made the film Heat – at a Paris film festival and told him: "You were my technical adviser."
It is also not his first dramatic prison break: In 2013, he escaped almost immediately after arriving at Séquedin prison, using explosives to blast his way through five prison doors while holding guards hostage as human shields.
His fame has also been helped by his 2009 book, outlining his younger days on the streets of Paris and his descent into the life of a professional criminal.
That earned him the nickname "L'Écrivain" – or "the writer" – among French police.
Timeline of a jailbreaker
Faid's cycle of imprisonment and escape began with his arrest in 1998 on multiple counts of armed robbery and bank theft.
In 2009 he was freed on parole, swearing that he was a changed man – but by 2011, he had breached his terms of release and was back behind bars.
In 2017, Faid was sentenced to 10 years' imprisonment for his 2013 jailbreak from Séquedin prison, outside Lille. He was also given 18 years for masterminding a 2010 robbery in which a young policewoman, Aurélie Fouquet, was killed.
Faid mounted a failed appeal, and in April 2018 was given a heavier sentence of 25 years for the botched robbery. He was serving that term at the time of his latest escape.
Born in 1972, he grew up in a notoriously rough part of Paris.
In the 1990s, he ran a gang involved in armed robbery and extortion in the French capital. He has said his lifestyle was inspired by Hollywood gangster films, including the Al Pacino thriller Scarface.
One of Faid's most recent prison supervisors said he was never in conflict with guards, but that "we must always be wary".
"In the corner of his mind, he never lost the idea of escaping. Behind all his manners – he is very polite – he always hid his game," the supervisor said.