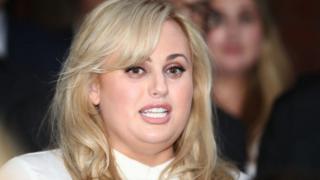 A magazine publisher has successfully appealed against the size of a record defamation payout awarded to actress Rebel Wilson in Australia.
Last year, Wilson won a case against publisher Bauer Media over articles that she said had wrongly portrayed her as a serial liar.
A court had ordered Bauer to pay her A$4.5m (£2.7m; $3.6m) – a record for an Australian defamation case.
On Thursday, the Victorian Court of Appeal reduced the sum to A$600,000.
Wilson, an Australian star of Hollywood films including Pitch Perfect and Bridesmaids, has vowed to give her compensation to charity.
The size of the original payout had generated discussion in Australia over whether it could stifle future journalism that is in the public interest.
Key argument overturned
In court last year, Wilson successfully argued that the eight articles published by Bauer magazines in 2015 had resulted in her being sacked from two feature films.
In its original finding, the Supreme Court of Victoria awarded her A$650,000 in general damages and $A3.9m for the lost roles.
However, the appeals court ruled that Wilson had failed to prove that Bauer was responsible for her losing the roles.
"The court has rejected the finding that Rebel Wilson lost the opportunity to earn A$15m by being cast in lead or co-lead roles in Hollywood films from mid-2015 to the end of 2016," the judgement read.
Wilson was not in court on Thursday, but in a tweet on Wednesday she said that her case "was never about about the money".
Six Australian media firms had also attempted to appeal against the size of the original payout, but their application was dismissed by the court.