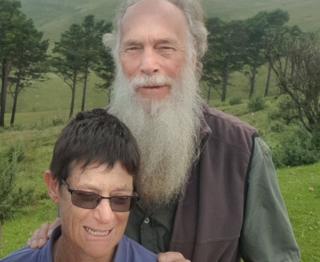 South African police have identified the body of a British botanist kidnapped with her husband in a case with suspected links to the Islamic State group (IS).
Rachel Saunders, 63, and her husband Rodney Saunders, 74, were last seen alive on 10 February.
Police found Rodney's body on 17 February in a river.
Authorities identified Rachel's body on Wednesday but they did not say where they had found her remains.
The pair, who owned a seed business in Cape Town, were on a trip looking for rare seeds in KwaZulu-Natal province when they were taken.
Read more:
Suspects Fatima Patel, 27, and Saffydeen Aslam del Vecchio, 38, were arrested on 16 February, one day before Rodney's body was found. Before the arrests, they were both under police surveillance and are alleged to have hoisted an IS flag in the reserve where the couple disappeared.
Ms Patel had previously been arrested, with her brother, in 2016 during a separate anti-terrorism raid closer to Johannesburg. Neither of them were charged.
Themba Xulu, 19, was later arrested after the couples' mobile phones were found in his possession, with a fourth suspect named as Ahmad Mussa, 36, from Malawi.
Xulu received a suspended three-year sentence after striking a plea bargain with prosecutors, with the rest still in custody and due in court on 24 August on murder, kidnapping and robbery charges.
The BBC has declined to comment on reports that, shortly before they were kidnapped, the Saunders had been working with a film crew from the television programme Gardeners' World.
After the couple's disappearance, their car was found with blood marks and 734,000 rand (£42,000) was reportedly drained from their bank accounts.
There have been no known attacks by IS, or any other jihadist group, in South Africa.
The most prominent case ever linked to IS in the country involved the Thulsie twins: Brandon-Lee and Tony-Lee. They were arrested during raids in 2016 that also saw Fatima Patel detained – though she was not charged at the time.
The twins are expected to face trial on terrorism charges related to alleged plans to attack the US embassy in South Africa and Jewish targets.
The Saunders' disappearance led the British Foreign Office to update its warning about the threat of a terrorist attack in the country, which upset many South Africans.