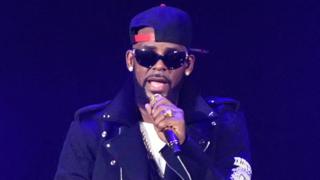 R&B singer R Kelly refused to tone down his act at a performance in the US state of North Carolina amid protests over his treatment of women.
The singer announced on stage on Friday night that he had "been through a lot" in recent days before launching into a number of sexually suggestive songs.
Earlier, protesters demonstrated outside the venue against Kelly's alleged "history of sexual misconduct".
It comes days after the singer's music was removed from Spotify playlists.
In one of his first performances since a campaign calling for him to be boycotted, Kelly thanked his supporters at the Greensboro Coliseum for continuing to "fight for me" following years of allegations.
He added that he had been asked to perform a more low key set before breaking into sexually explicit songs and at one point rubbing a fan's smartphone between his legs, the Associated Press (AP) news agency reports.
Kelly, 51, was removed from Spotify playlists this week as part of the streaming service's new "Hate Content & Hateful Conduct" policy, having been accused of sexual assault on multiple occasions.
He has recently been targeted by the #MuteRKelly campaign, which calls for the singer to be boycotted. The campaign gained momentum last week when it was picked up by the Time's Up movement against sexual harassment.
Time's Up has called for "appropriate investigations… into the allegations of R Kelly's abuse made by women of colour". He denies the allegations and has said he "supports the pro-women goals" of the movement.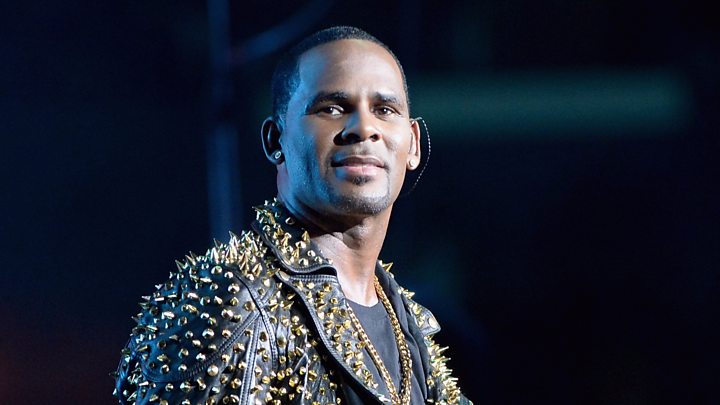 In April, Kelly faced a fresh allegation of sexual misconduct from a former partner who said he "intentionally" infected her with an STD.
According to her lawyer, the unnamed woman was the victim of "unlawful restraint" and claims that Kelly attempted to make her a member of a "sex cult" he is alleged to have run.
In 2008, Kelly was acquitted of 14 charges of making child pornography after a videotape emerged allegedly showing him having sex with a 14-year-old girl.
Kelly is one of the most successful R&B artists of all time, with 40 million records sold worldwide. His best known hits include I Believe I Can Fly and Ignition (Remix).