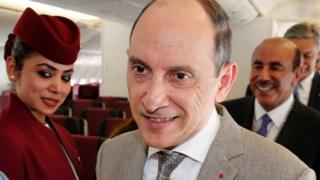 The airline industry wants to attract more women, but no one seems to have told the trade body's new chairman.
Akbar Al Baker, International Air Transport Association chair and chief executive of Qatar Airways, said his job could only be done by a man.
"Of course it has to be led by a man, because it is a very challenging position," Mr Baker said.
He made the comment at IATA's annual meeting, where improving diversity at airlines was a big theme.
The comments reportedly drew groans and gasps from those present, and Mr Baker later appeared to try to clarify his comments.
He said Qatar Airways was the first carrier in the Middle East to have female pilots and that the company had women in senior roles.
"So we actually encourage women. We see that they have huge potential in doing senior management positions," he said.
Mr Baker also said that he would welcome a female leader, providing he could train her up.
"It will be my pleasure to have a female CEO candidate I could then develop to become CEO after me," he told Bloomberg.
'Grandmothers'
It's not the first time that the Qatar Airways boss has sparked controversy.
Last year, Mr Baker was forced to apologised "unreservedly" for his unflattering description of US flight attendants as "grandmothers". In contrast, he had said the average age of Qatar Airways cabin crews was 26 in comments criticised as both sexist and ageist.
Gender equality in the notoriously male-dominated airline industry was a big theme at the IATA annual meeting.
Alan Joyce, the gay chief executive of Qantas Airways who campaigned for marriage equality in Australia, had sat next to Mr Baker at a session on the topic.
Mr Joyce said that having a diverse workforce could help drive profits.
"If you get the best talent, the best people, the best jobs you're going to perform better," he added.
Willie Walsh, chief executive of British Airways-owner IAG, said the industry needed to attract more women and that progress had been slow.
"Aer Lingus recruited its first female pilot in 1977… It's taken 40 years to get to 10%," he said.