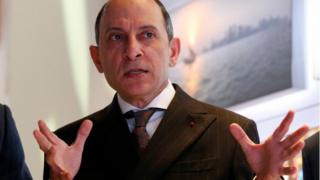 The boss of Qatar Airways has issued "heartfelt apologies for any offence caused" for saying that a woman could not do his job.
Akbar al-Baker said on Tuesday that the airline had to be led by a man "because it is a very challenging position".
He later defended Qatar Airways' record on gender diversity, but that failed to quell growing criticism.
In a statement on Wednesday, Mr al-Baker said Qatar Airways fully supported gender equality.
He said his comments on Tuesday were "sensationalised by the media… Qatar Airways is made stronger by its female employees for whom I hold nothing but the highest regard."
The original remarks were made at the annual conference in Sydney of the aviation industry's trade body, the International Air Transport Association (IATA), only six of whose 280 airline members have female chief executives.
Gender imbalance in the industry was a big theme of the conference, where Mr al-Baker officially took over as IATA's chairman.
Asked at news conference on Tuesday about female employment among Middle East airlines and whether his job could be done by a woman, Mr al Baker said: "Of course it has to be led by a man, because it is a very challenging position".
Controversial past
His comment reportedly prompted groans and boos at the conference, and as the controversy spread, the chief executive issued a statement.
"I would like to offer my heartfelt apologies for any offence caused by my comment yesterday, which runs counter to my track record of expanding the role of women in leadership throughout the Qatar Airways Group and has been sensationalised by the media."
Women comprise almost half of the airline's workforce, and "the dedication, drive and skill they bring to their jobs tells me that no role is too tough for them, at all levels of the organisation".
His statement continued: "Qatar Airways firmly believes in gender equality in the workplace and our airline has been a pioneer in our region in this regard, as the first airline to employ female pilots, as one of the first to train and employ female engineers, and with females represented through to senior vice-president positions within the airline reporting directly to me."
Mr al-Baker has a reputation for making blunt and often humorous comments, but they can also backfire.
In 2017, he apologised after calling US flight attendants "grandmothers" during a trade row with US airlines, prompting an airline union to accuse him of sexism and age discrimination.
Asked on Wednesday whether he truly believed that only a man could do his job, Mr al-Baker said, "No, I don't believe that. As a matter of fact, [at] Air Italy the majority shareholder has shortlisted women to be the CEO and as a minority shareholder, we are actively encouraging that."