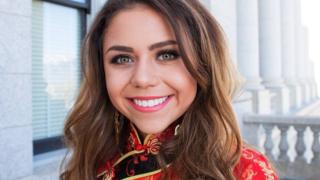 A high school student's prom pictures have generated a furious debate online after some social media users accused the 18-year-old of "cultural appropriation".
Twitter user Keziah, who is not Chinese, posted pictures of herself wearing a cheongsam, or qipao – a traditional Chinese dress – for her prom in Utah, USA, last week.
In a widely-shared response to the pictures, one Twitter user, Jeremy Lam, tweeted: "My culture is not your… prom dress".
The original tweet, and Lam's criticism on Friday night, have attracted hundreds of thousands of likes, tens of thousands of retweets, and thousands more comments as supporters and critics clashed over the weekend over the concept of cultural appropriation – the adoption of minority cultures, typically by dominant cultures.
Mr Lam explained on Twitter why he found the photos troubling. He said the qipao began as a formless gown for house cleaning and was turned into a symbol of female empowerment.
"In a time where Asian women were silenced they were able to create not only a piece of art but a symbol of activism," he wrote.
"This piece of clothing embraced femininity, confidence and gender equality through its beautiful, eye-catching appearance.
"The style was then spread throughout Asia as a beautiful garment and sign of women's liberation.
"I'm proud of my culture, including the extreme barriers marginalised people within that culture have had to overcome those obstacles. For it to simply be subject to American consumerism and cater to a white audience is parallel to colonial ideology."
You might also like:
Mr Lam's post clearly struck a chord. By the time of writing it had been liked more than 167,000 times and retweeted close to 40,000 times.
However, after some commenters suggested Keziah should remove the pictures, she refused.
"To everyone causing so much negativity: I mean no disrespect to the Chinese culture," she wrote.
"I'm simply showing my appreciation to their culture. I'm not deleting my post because I've done nothing but show my love for the culture. It's a… dress. And it's beautiful."
As the debate grew, social media users on both sides of the argument weighed in.
"This isn't ok," one social media user wrote. "I wouldn't wear traditional Korean, Japanese or any other traditional dress and I'm Asian… There's a lot of history behind these clothes."
"If you 'appreciate' and 'love' our culture, you'd know it's a traditional gown," another wrote. "Yet you claim 'it's just a dress'… What you said shows no appreciation but shows plenty of appropriation."
Others supported Keziah.
"You look gorgeous and the dress is stunning," one tweeted. "What a wonderful world we live in where we can share culture and dress in special design and style from across the world representing the culture of Earth and the art of humanity."
"Teenage girls go through a lot of struggles with acceptance and self-esteem so I'm glad that thousands of people are using their Twitter to support… calling this random girl racist because she committed the grievous sin of wearing Chinese clothing to the prom," another wrote, tongue in cheek.
'Learn about all cultures'
Keziah told the BBC she "never imagined a simple rite of passage such as a prom would cause a discussion reaching many parts of the world".
"We live in a multicultural society and should learn about all cultures," she said.
"It is the only way we can move past racist attitudes and be better people.
"I am sorry if I have caused offence to anyone. My intent was never to anger anyone. I simply found a beautiful, modest gown and chose to wear it."
The row is the latest in a number of online arguments to erupt over perceived cultural appropriation.
In 2016, a video capturing an argument between a young white man with dreadlocks and a young black woman who objected to them garnered more than three million views on YouTube.
In February, Little Mix singer Jesy Nelson was also accused of cultural appropriation after an Instagram post in which she wore her hair in dreadlocks.